Stop. The. Presses.

Red Dot Sale: March 1 - 31, 2019
Save 25% on wines with a RED DOT (while supplies last)
Here's how it works. If you see a RED DOT on a wine shelf-talker in the store, then it's eligible for our HUGE sale. These remarkable discounts are already programmed in the computer software and they will automatically tabulate at the register starting February 1.
There's no need to purchase a case in order to receive the spectacular savings because this RED DOT sale applies to individual bottles.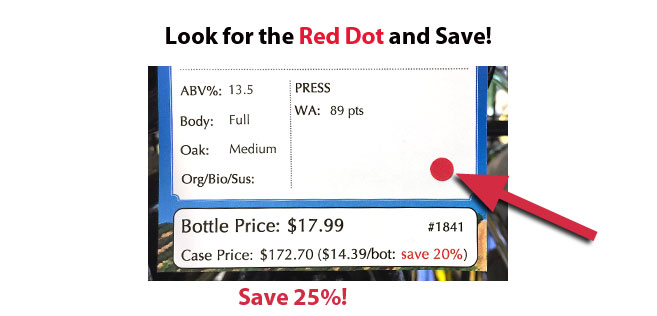 We're hosting our RED DOT sale for the entire month of February, but quantities are limited to stock on hand. Once an item runs out, it's gone for good. This means great opportunities await you RIGHT NOW. This advance notice is only going out to our wine club members. As always, membership has its advantages!
So many wines have a RED DOT. Save 25% on each one of them.

It always pays to get in the game early. These screaming bargains aren't going to last long.
We have full-throttled reds on RED DOT sale. High end Napa Valley Cabs. Lip-smacking white Burgundies. Italian stallions. Sun-drenched classics. Every day wines. You name it. Our RED DOT sale over-delivers on every level.
It's time to stock up. The price is right. Maybe even pamper yourself with a sensational deal or a hidden gem.

Time to indulge in incredible savings!