Under $20 Red With 96 Points: High Sell Out Alert
Let's face it. We're like kids in a candy store, except we're adults and we're talking about wine. We can drink pretty much anything we want on any given day. Yet, in spite of the vast array of wines available to us, we bring home a few select wines on a regular basis simply because we enjoy them so much.
Today's wine is one you'll find in our home on a regular basis.
We've been enjoying it for months. We even sent out an email offer on this wine a while ago and many of you brought it home and loved it.
We're sorry to say we have some bad news. Some really bad news.
It just received 96 points from a heavy hitting wine reviewer which means only one thing.
Every retailer in the state is scrambling to get their hands on it.
Fortunately, we're longtime pals with the wholesaler and we were offered a first pass at the inventory before they limited it to just 3 cases per retailer! Just 3 cases!!! Haha. It's sort of like being on our wine email list -- you find out about the good stuff first!
So we're thrilled to announce we secured 15 cases before the cut off and that's it. After that, this wine is just a memory. Sigh. Sometimes it's easier to love a wine without points because it stays around. This one most certainly will not, so you'll need to act quickly because this offer has a very high sell out risk for obvious reasons.
We honestly toyed with the idea of taking all 15 cases home ourselves, but then we remembered we never do that. We're here to share our cool finds and there is always, always more wine around the corner.
So, without delay, we have a delicious red wine for you with a whopping 96 point score. Did we mention you can purchase it for less than $20/bottle?!?
Many of you are familiar with Chateau Ste. Michelle, a Washington state producer of quality wines which have a high value to cost ratio. We think their wines make for great every day drinking.
Today we're pleased to offer you their latest new bottling called Borne of Fire Cabernet Sauvignon which is sourced from a region in eastern Washington known as "The Burn." The Burn is a new AVA (American Viticultural Area) named after the early settlers who set fire to the land to replenish grasslands for their horses. It was accepted on October 31, 2017 and is currently pending final rulemaking.
Check out the phenomenal critical acclaim!!!
Borne of Fire Cabernet Sauvignon 2016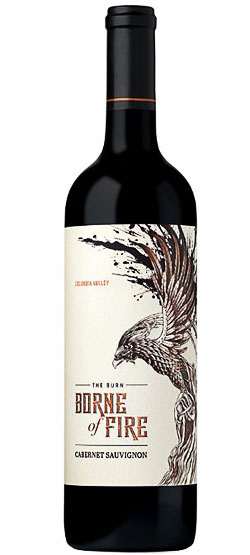 "This is the first year made of this wine with wonderful blackberries, rose leaves and blueberries. Wildly floral. Stems. Full body and round and fine tannins. Juicy and intense. Shows an eccentric style. All large oak. A new nature and personality. Drink now or hold." (James Suckling)
James Suckling: 96 points
Now, we love this wine without the crazy points. We would have continued to drink this beauty all year round only now we can't. Thank you James Suckling, former Senior Editor of Wine Spectator magazine, for being such a powerhouse wine reviewer and selling this wine out the minute your score hit the market.
Oh well, every wine has its day and this one belongs to Borne of Fire, a great Washington state red wine.
The every day price is $22.99/bottle and that's a great value for the money.
Purchase a solid case and you score big, bringing it down to just $18.39/bottle.
At less than $20/bottle with 96 points we suggest you reserve your case right now. There's only 15 of them after all and if you don't take them then we most certainly will.



* Wine & Spirit Education Trust Certified *

Town Center Wine & Spirits
Cape Cod's Most Trusted Wine Merchant
Location
4550 State Highway
North Eastham, MA 02651
(Next to the Royal Thai Restaurant in the Town Center Plaza)
Tel: 508 255 3660
Fax: 508 255 6736

Memorial Week Hours

Mon-Thursday: 9 a.m. to 9 p.m

Friday-Saturday: 9 a.m. to 11 p.m.

Sunday: 10 a.m. to 8 p.m.

Monday: Noon to 9 p.m.

We're open year round.
Closed only on Thanksgiving and Christmas.