Sea Mist In Your Face: A Primer On Muscadet
Let's head on over to the Loire Valley of France today and explore the wonders of Muscadet.
There are three main wine growing regions within the Loire Valley, in order from west to east: the Lower Loire (Pays Nantais), Central Loire and the Upper Loire.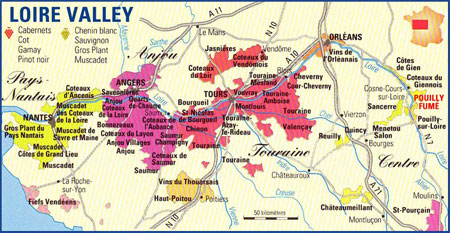 Today we're going to focus on Pays Nantais, the vineyard areas surrounding the town of Nantes and the most westerly region of the Loire Valley on the Atlantic coast. Here Muscadet reigns supreme in all of its bone-dry, racy and minerally glory.
The Western portion of the Loire Valley was built upon a foundation of cooled lava and magma which metamorphosed over millions of years into granite primarily. Vineyards carved into this granite are responsible for the trademark minerality of these wines.
Quiz Time: What is the grape variety in Muscadet? (1) Aligote, (2) Auxerrois, (3) Melon de Bourgogne, (4) Chenin Blanc.
The very best versions are grown in the Muscadet Sèvre et Maine appellation which is named after the two rivers that flow through it (um, yes, Sèvre and Maine). Now, did you guess #3 in our first Quiz Time? Melon de Bourgogne is indeed the grape variety in Muscadet.
Melon de Bourgogne is widely considered to be a "neutral grape" which means the way the wine is crafted has a big impact on its taste (much like Chardonnay). According to Jancis Robinson, Master of Wine, Melon de Bourgogne has a "neutral base on which to embroider terroir and sur lie characteristics."
Let's delve into that "sur lie" (pronounced sur lee) business. Muscadets are frequently aged on their lees and it will be indicated on the bottle. This isn't intended to freak you out, but lees are actually dead yeast particles. While aging a wine with suspended dead yeast cells after alcoholic fermentation might sound like a weird science experiment, the end product has a lot going for it. Aging on the lees creates texture and body, as well as imparting a roundness, richness and creaminess to the wine, not to mention the potential for yeasty notes (think Champagne). Some higher quality producers age their best Muscadets for up to three years on the lees.
Quiz Time: Which of the following grape varieties is related to Muscadet? (1) Muscat, (2) Muscadelle, (3) Muscadine, (4) none of the above.
Kudos for choosing the last answer. None of these are related to Muscadet.
So what's so special about this wine which sounds like it should have been used as a weapon in colonial times? Muscadet frequently has a saline, oceanic quality especially when it's grown close to the sea. It's no wonder it's considered to be the quintessential oyster pairing wine! This in turn means it's the perfect wine for Cape Cod's oysters, mussels, scallops and seafood.
If saline doesn't sound like an attractive quality to you in wine, then try drinking a Muscadet while slamming down some Wellfleet Holbrook oysters. This pairing is so much more than the sum of its parts. It will turn your every day Muscadet into a Musca-yay! It also highlights the classic wine pairing advice given to all new wine lovers -- pair the wine from a specific region with the food from that same specific region. There's a dynamic and symbiotic reason why classic wine and food pairings have existed throughout time and this is one of them.
Entry level Muscadet Sèvre et Maine is a great place to start your wine journey into the Loire Valley. These are usually found for $15-20/bottle before discount. Light in body, low in alcohol, featuring flinty and stony minerality -- sounds good, right? Not to mention these wines are zippy and fresh enough to be slapped.
If you want to delve deeper into this delicious wine appellation, then look for examples of Muscadet Sèvre et Maine which have extended lees aging. These will often be in the $18-30/bottle range and will frequently be a few vintages older than the freshest releases. They have everything wonderful in common with the entry level wines, with the addition of a creamy texture, roundness and richness. These versions of Muscadet can actually withstand aging, upwards of ten years or more in some cases.
Food Facts: This light-bodied, mineral-driven dry white wine is screaming for oysters, mussels, scallops and shrimp. In Nantes a revered local dish is Moules Frites , mussels cooked with Muscadet wine, shallots and herbs and served with hand cut French fries.
Aside from the famous Moules Frites dish, Muscadet is also known as the original white wine featured in the French standard beurre blanc sauce, invented by Clémence Lefeuvre in the early 1900's at her restaurant La Buvette de la Marine, which was close to Nantes. This smooth and creamy sauce of glistening buttery goodness is a staple in our house. Here's a tasty version. We like to serve it with pan-seared scallops, roasted chicken and wild-caught poached salmon. Kerrygold butter for the win!
Now you know the basics of Muscadet,
so let's go ahead and try some!
Michel Delhommeau Cuvée Harmonie Muscadet Sèvre et Maine 2018

Michel Delhommeau is the third generation in his family to grow wine grapes, but the first to work the farm organically. The Cuvée Harmonie comes off a plot which was planted in 1945 and is grown on volcanic soil known locally as gabbro.
"Harmonie is produced from a single parcel of 25-40 year old vines planted on gabbro soils – the main terroir Michel Delhommeau farms. Gabbro is chemically indistinguishable from Basalt, being its coarse grained cousin and makes for round and supple version of Muscadet with tremendous minerality and capacity for aging." Importer: Eric Solomon's European Cellars. (Importer's Notes)
$16.99/bottle or $163.10/12 pack case ($13.59/bottle) with the 20% case discount.

Domaine de la Pepiere Les Gras Moutons Muscadet Sèvre et Maine 2017

This is a small production, natural and biodynamically grown Muscadet from one of the best producers in the Loire Valley.
"Notes of beeswax surround the core of clementine and white peach flavors, with vibrant acidity and mineral elements imparting a mouthwatering feel on the focused finish. 420 cases imported." (Wine Spectator)
Wine Spectator: 90 points
$18.99/bottle or $182.30/12 pack case ($15.19/bottle) with the 20% case discount.

Shop At Small, Family-Run Businesses
We recently went into one of the Cape's liquor store chains looking for a bottle of Sancerre. We didn't feel like driving to our store in the cold and it was just down the road. After looking through the enormous selection of wine, we were befuddled. We went up to the two clerks at the register and said, "Excuse me, we can't seem to find the Loire Valley section in France. Could you please tell us where it is?"
The response floored us. "We don't have one."
"What? Seriously?" we said, "This store is so large. What about Sancerre, you must at least have one of those? It's a really important category."
"Nope. We don't have any of those."
*** jaw drop ***
Now here's how that very same conversation would have gone down in our little family-owned store if either of us had been on the floor at the time.
"Excuse me, we can't seem to find the Loire Valley section in your store. Can you please tell us where it is?"
"Absolutely! It's HUGE for the size of our store. All of the appellations within France are organized and arranged alphabetically so all of the Loire Valley is together in between the Languedoc-Roussillon and the Rhône Valley. You'll find entry level Sauvignon Blancs, Chenin Blancs and Muscadets, along with higher tiered Sancerre, Quincy, Menetou-Salon, Reuilly, Vouvray, Savennieres and more. Are you looking for anything specific?"
"Yes, we'd like a Sancerre."
"Fantastic! That's one of our favorites categories as well. Now, would you like a white Sancerre, a red Sancerre or a rose Sancerre because we stock all three variations of Sancerre on a year-round basis."
"White please."
"Great! We currently have seven of them in stock, from entry level all the way up to very special single vineyard Sancerres. Where would you like to start?"
Just sayin'.
Speaking of smaller is better, we were recently featured in an article in the Provincetown Independent Newspaper about the insidious emergence of liquor store chains on the lower and outer Cape. You can check it out over here!





* Wine & Spirit Education Trust Certified *

Town Center Wine & Spirits
Cape Cod's Most Trusted Wine Merchant
Location
4550 State Highway
North Eastham, MA 02651
(Next to the Royal Thai Restaurant in the Town Center Plaza)
Tel: 508 255 3660
Fax: 508 255 6736

Winter Hours

Mon-Sat: 9 a.m. to 9 p.m.

Sunday: 10 a.m. to 6 p.m.

We're open year round.
Closed only on Thanksgiving and Christmas.