Red Dot February: The Biggest Sale of the Year!
From the Depths of Unbelievable Savings Our Annual Red Dot Sale Has Returned!!!
February 1st is the start of OUR BIGGEST SALE OF THE YEAR!!!!!!!!
For the entire month of February we will be offering our exclusive Red Dot Sale.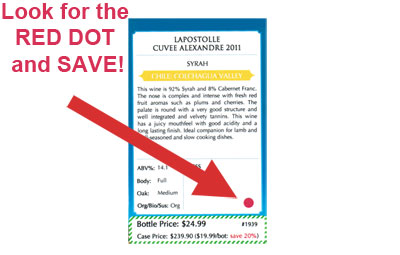 To see the complete list of wines in the Red Dot sale Click Here.
As many of you already know, we are very passionate and particular about our wine selection being unique and exciting. This means we take time each year to clear our inventory of a large portion of products so we can bring in new and delicious wines for your enjoyment.
This is VERY good news for collectors and bargain hunters!
When you see the red dot on any wine in the store that means you have found an OUTSTANDING DEAL. Any wine with a red dot will be discounted 25% on a single bottle.
That's right, not a case or even two bottles but one single bottle can get you a discount higher than our normal case discount price!
So here's how it works. If you see a RED DOT on a wine shelf-talker in our store it's eligible for our HUGE sale. The 25% discount is already programmed into the computer and it will automatically tabulate at the register beginning on February 1st and it will run through February 29th.
No further case discounts will apply to these already heavily discounted wines.
We'll be offering our RED DOT sale for the entire month of February but, please understand, quantities are limited to stock on hand. Once an item runs out, it's gone for good. When they are gone we already have plans of filling our shelves with some truly impressive wines from around the world!
This means great opportunities await you RIGHT NOW. This advance notice is only going out to our wine insider email members. As always, membership has its advantages and you're the only ones who know that this very special sale is becoming available.
As we have seen in previous years, the best deals disappear quickly so make sure to capitalize on this offer early especially if you find something that catches your eye.
Here is just a slight taste of what we will have on sale during the ENTIRE month of February:
If you're looking for the heart of world-renowned wines then we have some very impressive French selections just waiting to be taken home, like the Mugneret Vosne Romanee (Wine Spectator 90 points), Camille Giroud Gevrey-Chambertin, Ruet Regnie Beaujolais, Francois Mikulski Bourgogne Blanc, Billaud-Simon Chablis and Delas Viognier.
While in the Old World take a peek at our Italian gems starting with a wide array of unique and delicious wines like Siro Pacenti Rosso di Montalcino (Vinous 92 points), Tenuta Arceno Il Fauno (Wine Advocate 93 points) and Badia Coltibuono Montebello (Wine Spectator 94 points).
Of course, we cannot forget the amazing wines produced in our own country like the ephemeral Liquid Farm Chardonnay (Vinous 92+ points), Galerie Sauvignon Blanc (Wine Enthusiast 93 points) and Mt. Brave Cabernet Sauvignon (Wine Advocate 96 points).
We have LOADS of everyday value wines on sale as well. This is definitely THE TIME OF THE YEAR to stock up, whether you're looking for heavy hitters or inexpensive values.
Although you are among the very special few who get to hear about this sale first, please make sure to share this news with your friends because there is no one else on Cape Cod hosting a sale of this caliber with wines of this quality!
To see the complete list of wines in the Red Dot sale Click Here.
As always, it pays to respond early so you can catch all the best values before they are sold out.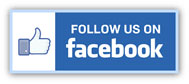 * Wine & Spirit Education Trust Certified *

Town Center Wine & Spirits
Cape Cod's Most Trusted Wine Merchant
Location
4550 State Highway
North Eastham, MA 02651
(Next to the Royal Thai Restaurant in the Town Center Plaza)
Tel: 508 255 3660
Fax: 508 255 6736

Winter Hours

Mon-Sat: 9 a.m. to 9 p.m.

Sunday: 10 a.m. to 6 p.m.

We're open year round.
Closed only on Thanksgiving and Christmas.