Original Super Tuscan Selling For A Song
As wine merchants it is our daily task to evaluate and drink wine. Just about any grape you can possibly imagine lands on our desks, from every wine region on the planet. Spoiled? You bet. With so many wines vying for our attention, it takes an extra special something-something to get us excited.
Case in point, today's offering.
Are you are familiar with Morellino di Scansano? If not, it's time to give it some love.
Morellino di Scansano is a DOCG wine region in the village of Scansano in the Maremma region of coastal Tuscany. So what's so interesting about this? A whole lot.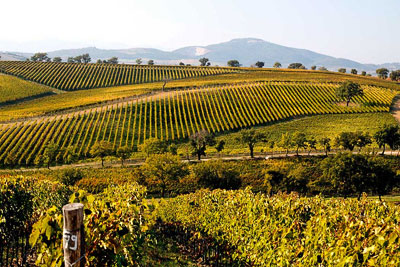 There are literally hundreds of names for Sangiovese in Italy, depending upon the clone and the region. For example, Sangiovese positively soars as the solitary grape in Brunello di Montalcino, and it's also the primary grape in the oh-so-delicious Chianti Classico, Vino Nobile di Montepulciano and many "Super Tuscans."
So what's a Super Tuscan, you might ask?
Way back in the 70s when the Brady Bunch and the Partridge Family reigned on Friday nights, some producers in Tuscany started an uproar. Rebelling against the tight legal restrictions for producing Chianti, they developed a whole new category of wine, flying in the face of tradition.
The mavericks who created this term did so because they either wanted to blend in grapes that were prohibited in the region (such as Cabernet Sauvignon or Merlot), or they wanted to produce great wines outside of the formal Chianti zone in Tuscany. But it doesn't stop there. The term was also strategically coined to distinguish these wines from the inexpensive and lower quality wines being produced in the area (called Vino da Tavola or table wine).
Super Tuscans tend to be more modern in style -- big, rich and juicy -- and they also carry a hefty price tag, often $100/bottle or more. Let's just say that particular marketing campaign was effective!
Meanwhile, back in the village of Morellino di Scansano something special was going on.
Can you guess? You're correct.
The home of the original Super Tuscan blend!!!
Anyone else out there getting excited? We absolutely love finding wines with a high value to cost ratio, especially if they are under the radar. And, since 85% of the Morellino di Scansano blend must by law be comprised of Sangiovese, that tells you one amazing thing.
If you adore Brunello di Montalcino, Chianti Classico, or Super Tuscans in general, and AND YOU WANT TO PAY A WHOLE LOT LESS, then it's time to release the balloons and do a few cartwheels.
Oh wait, there's one more thing. It keeps getting better and better. Points. We have points.
Terenzi Morellino di Scansano 2016 (DOCG)

"This wine is all Sangiovese, made only in stainless steel for a fresh, zesty and easy style. A tangy and bright red wine that will appeal to those who love this mighty Tuscan grape. The presentation is pure and unassuming. Spicy licorice and wild sage appear beyond the cherry fruit." (Wine Advocate)
Wine Advocate: 89 points
"This young, juicy Sangiovese opens with aromas of red-skinned berry, crushed raspberry and white pepper. The aromas carry over to the bright alongside fresh acidity and velvety tannins." (Wine Enthusiast)
Wine Enthusiast: 90 points
This wine is $14.99/bottle every day so we strongly suggest you purchase a case or two, particularly as the solid case price comes down to just $11.99/bottle.
At less than $12/bottle this is a screaming value.
Plus you can impress your friends by telling them this is the original Super Tuscan blend but you didn't purchase it for $100/bottle because you are very clever and you know where to buy incredible wine. :o)
P.S.
If you want to try something really unique (and downright tasty) then how about a red wine from different grapes, different regions and different vintages in Italy? You won't often see NV (non vintage) on anything but bubbles, but in this case it's a smash hit.
Hello everyday red, we've been waiting just for you.

Piccini Memoro Rosso NV
"This wine is a warm, modern style with notes of dark cherries, figs and coffee in a delicate oak frame. Generous on the palate, revealing a bright fruity core. Concentrated, exposing great structure, yet harmonious and soft. Long dense finish.
Memoro truly emerged as a cuvee wine, a blend of not only different grapes of different origins in Italy, but also of different vintages: the 12 months oaked casked Montepulciano from Abruzzo, the solar Nero d'Avola from Sicily, the colder climate (Veneto) merlot and the passito Primitivo wine from Puglia." (Winemaker's Notes)
$12.99/bottle every day of the year. Solid case pricing comes down to just $10.39/bottle.
This is a rock solid red, made for evenings watching the sunset, boat loads of summer company, and/or quaffing after a busy day at work. Soooo tasty, this one also deserves your attention.



* Wine & Spirit Education Trust Certified *

Town Center Wine & Spirits
Cape Cod's Most Trusted Wine Merchant
Location
4550 State Highway
North Eastham, MA 02651
(Next to the Royal Thai Restaurant in the Town Center Plaza)
Tel: 508 255 3660
Fax: 508 255 6736

Spring Hours

Mon-Sat: 9 a.m. to 9 p.m

Sunday: 10 to 6 p.m.

We're open year round.
Closed only on Thanksgiving and Christmas.