Maximizing Return On Investment
Perhaps you've heard of the term "declassified wine" at some point in your wine adventures. Usually it involves a prestigious winery selling off the juice from its younger vines that aren't yet ready to be included in their high end bottlings. Often these wines are less complex than the original but represent incredible value for the money and taste great.
We're all about maximizing ROI (return on investment). We actively seek out wines that overdeliver for their price day in and day out.
Other than declassified wine, one way to obtain an exceptional ROI is to purchase wine that lies just barely outside of a famous wine growing region. The soil and climate are the same, the property is adjacent to the golden zone, but it fails to meet the precise zip code regulations for the wine growing appellation.
Today we have a 90 point red wine adjacent to the Priorat, home to some of the most expensive and lauded red wines in all of Spain.
It's from the Montsant DO, which almost completely surrounds the prestigious DOQ of Priorat.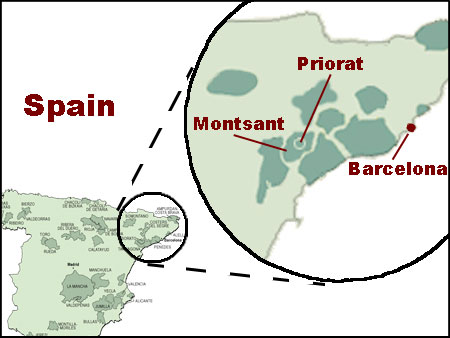 Montsant was elevated in 2002 mainly in recognition of its superior wines produced from old vines on soils bearing a striking similarity to those in the Priorat. At lower prices and within spitting distance in quality of its famous neighbor, consumers, sommeliers and winemakers are starting to have a greater appreciation of the charms of this region.
Eric Solomon of European Cellars visited Montsant and was taken with how similar the soils and grapes varieties were to the Priorat. Tasting through the various tanks and barrels at Capçanes, he created a cuvée of Garnatxa and Syrah that he named Mas Donis – a wine he jokingly said was his "best Côtes-du-Rhône."
Despite the similarities in cépage, the granite and schist terroirs here could not be more different than the calcareous soils of the Rhône valley. With time and experimentation – moving from barrel aging to aging entirely in concrete and selecting fruit from some of the oldest Garnatxa in the village, Mas Donis has evolved to show a more Priorat-inspired profile.
It's a serious wine at an extremely friendly price.
"I've been meaning to spotlight this exceptional Catalan producer [Capçanes] in the hills above Tarragona for ages. Those who have come across its compact, well-made reds will already know their signature, at such a low price, you can taste the same sort of earthy minerality as is evident in all good red Priorat, is very intense, ripe and full." – Jancis Robinson, Master of Wine

Capçanes Mas Donis Old Vines 2014
"The 2014 Mas Donis Old Vines is a custom cuvée for American importer Eric Solomon. It's a mini-Rhône blend of Garnacha with some 15% Syrah from old vines matured exclusively in concrete. The nose is like Garnacha cotton candy with red fruit and a touch of smoked meat. The tannins are soft and the texture is silky, ending with a very tasty note.
Great value and produced in good volume." (Wine Advocate)
Wine Advocate: 90 points
$14.99/bottle or $143.90/12 pack case ($11.99/bottle) or just $11.99/bottle in a mixed case of wine.
This is a great everyday red wine that's perfect for burgers, sipping on the deck, or busting out for company. It over delivers in every sense for the price! At less than $12/bottle after discount this is one wine you should definitely have on your wine rack.
Wine Tasting Alert!
Wine Tasting Alert!!
Wine Tasting Alert!!!
Please join Jonathan Ryder, our new Manager as of this week (!!!), for a special wine tasting featuring Capçanes Mas Donis Old Vines as well as several blockbuster gems this Friday, April 7, from 1-4 pm.
Stop by and say hello to Jonathan, and taste some thrilling wines, including the new vintage of Chateau Puech Haut rosê 2016. It's the best vintage yet and that's really saying something!



* Wine & Spirit Education Trust Certified *

Town Center Wine & Spirits
Cape Cod's Most Trusted Wine Merchant
Location
4550 State Highway
North Eastham, MA 02651
(Next to the Royal Thai Restaurant in the Town Center Plaza)
Tel: 508 255 3660
Fax: 508 255 6736

Spring Hours

Mon-Sat: 9 a.m. to 9 p.m

Sunday: 10 to 6 p.m.

We're open year round.
Closed only on Memorial Day, Thanksgiving and Christmas.