Frosty Cold Rosé from Kermit Lynch and An Organic Farm
Domaine De Reuilly Pinot Gris Rosé 2018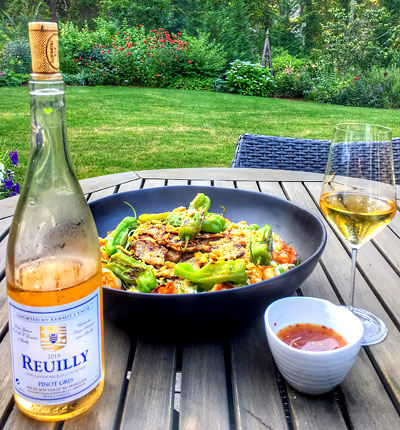 "Best known for its flinty whites made from Sauvignon Blanc, the small Reuilly appellation in the Loire Valley is also home to another specialty. About one in every five bottles of Reuilly is pink: a pale, delicately colored dry rosé of Pinot Gris.
These vins gris are created by directly pressing the berries after harvest, resulting in a short period of skin contact that imbues the slightest salmon hue to these delightfully light, crisp wines.
Denis Jamain is a proud ambassador of the appellation whose Domaine de Reuilly is certified both organic and biodynamic -- for Denis, essential philosophies to sustainably crafting clean, fresh, terroir-driven wines.
His Pinot Gris grows on light soils of sand and gravel, ideal for putting forth the grape's subtle aromas of fresh fruit. With suggestions of white peach, grapefruit, and flowers, low alcohol, and palate-cleansing acidity, it is perfect for an apéritif at sunset, but it also pairs brilliantly with ceviche, goat cheese, and many Vietnamese dishes." (Importer's Notes)
We're big fans of making Vietnamese food at home in the summer. It's perfect when the temperature climbs above 80 degrees. Refreshing, light and packed with flavor, we love the salads in particular. On this hot and humid day we made a Vietnamese cabbage, pea shoot and shredded chicken salad with blistered shishito peppers and spicy marinated and grilled shrimp. The dressing wasn't even a little bit shy -- it contained fish sauce, lime juice and garlic for punch, along with cilantro and mint for an herbal hit.
If you haven't checked out the farmstand at Chatham Bars Inn Farm in Brewster you're in for a big treat. There we saw a beautiful pointy (!!!) green cabbage which commanded our attention for weeks before we decided to make this salad. We couldn't stop thinking about it. Wow, oh wow, that's some amazing organic produce. We highly recommend a visit. We stop by several times a week now for most of our produce needs. This picture is courtesy of their Instagram feed and we just had to share the love!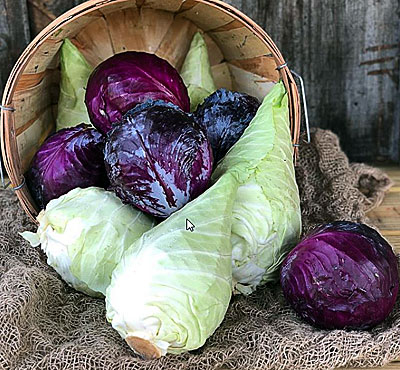 Frosty cold rosé is pretty much perfect with any Vietnamese food, and this bone dry version is no exception. It's not at all what you might expect from Pinot Gris. It's more robust than most, along with a big wallop of acidity. Plus this one is from the world famous importer Kermit Lynch, whose wines we stand behind 100%. Wine geeks will flip over this rosé. It's unusual, delicious and flying under the radar of most.
Domaine De Reuilly Pinot Gris Rosé 2018. $19.99/bottle every day or just $191.90/12 pack case ($15.99/bottle).
Stay cool and drink more wine!

Weekend Wine Tastings With George
Friday, August 2, 3-5 pm
Mont Redon Côtes du Rhône Blanc 2017
"Fun, juicy and uncomplicated, with a mix of peach, melon and fennel notes. Viognier, Grenache Blanc and Roussanne. Drink now." (Wine Spectator)
Wine Spectator: 87 points
Mont Redon Côtes du Rhône Rouge 2015
"Ripe and racy, with a delicious beam of red currant and raspberry pâte de fruit laced with light anise and singed apple wood notes. A light mineral edge adds length and cut. Drink now through 2019. 5,000 cases imported." (Wine Spectator)
Wine Spectator: 89 points
Saturday, August 3, 3-5 pm
A Tour Of Italy
Torre di Luna Pinot Grigio 2017
This is exceptionally clean and simple, and it should drink easily with appetizers or salads. A note of zesty citrus marks the finish. Perfect as an aperitif or accompanied by clams, mussels, squid and octopus.
Bisci Verdicchio di Matellica 2017
"Fresh and balanced, this light-bodied white layers a subtle, floral overtone and a stone-tinged underpinning, with flavors of Gala apple, ground ginger and lemon pith. Drink now through 2021." (Wine Spectator)
Wine Spectator: 88 points
Santa Maria La Palma Aragosta Vermentino 2018
The Lobster is the symbol of the gastronomy of Alghero and this white wine made from Vermentino di Sardegna grapes, is the ideal match. The aromas are well-balanced, delicate though distinct, with a fresh fragrance, reminiscent of ripe apples. The flavors are harmonious, dry, crisp and rather lively, with a pleasantly lingering aftertaste of almonds.
Poliziano Rosso 2017
"Rich and soft, this red offers plum and cherry fruit, with hints of earth and leather. Balanced and ready to enjoy. Sangiovese and Merlot. Drink now. 20,800 cases made, 4,300 cases imported." (Wine Spectator)
Wine Spectator: 87 points
Indigenou Selections Nebbiolo 2015
This entry level Nebbiolo is outstanding for its humble price, an unusual under $20 value for this region. These grapes are hand picked using sustainable farming. Sweet red cherries, flower, and spices create a juicy wine with plenty of mid-palate fruit with excellent grip.

Please follow us on Instagram for notifications of new wine releases, special events, and more!




* Wine & Spirit Education Trust Certified *

Town Center Wine & Spirits
Cape Cod's Most Trusted Wine Merchant
Location
4550 State Highway
North Eastham, MA 02651
(Next to the Royal Thai Restaurant in the Town Center Plaza)
Tel: 508 255 3660
Fax: 508 255 6736

Summer Hours

Mon-Sat: 9 a.m. to 10 p.m.

Sunday: 10 a.m. to 8 p.m.

We're open year round.
Closed only on Thanksgiving and Christmas.