Consistency and Quality: From Italy to Your Table
Today's wine email is written by our new Manager, Jonathan Ryder. He comes to us with many years of professional experience in the wine industry. Jonathan's breadth of wine knowledge is remarkable so we're pretty sure he's going to become your new best friend in the wine world! We're absolutely thrilled he's joined our team and taken over at the helm.
Jonathan will be conducting weekly wine tastings in the store on Friday afternoons so please stop by, say hello and taste some delicious wines with the coolest guy around.
And now over to Jonathan!


There's a veritable sea of different Italian wine varietals and it's easy to get lost in them with only a few that are known worldwide. In Northern Italy, many have fallen in love with the wines of Piedmont with their earthy reds and vibrant whites; however, two varietals stand out for being enjoyed on a daily basis, Barbera and Arneis. We have been fans of these wines for a long time and we always keep our eyes open for producers that stand out above the rest.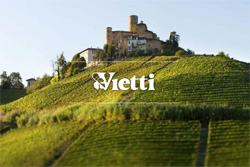 The Vietti estate has produced high quality wines since they transformed the family farm in 1919. They grew to become one of the top producers in Piedmont and were one of the first wineries to export to the USA, remaining one of the most trusted brands today. Alfredo Currado, who helped the estate grow substantially since 1952, is also known as the "father of Arneis" because of his efforts that led to the rediscovery of the varietal that almost became lost.
Arneis is now one of the most popular white varietals in Italy with the best coming from Roero.
Year after year the wines Vietti produces are dependable and offer great quality for their price points. Like all good Italian traditions, we look forward to sharing these wines with you through this offer and at our special in-store tasting this Friday, between 1:00PM-4:00PM.



Vietti Roero Arneis 2014
Roero produces some of the best Arneis and Vietti is one of our favorites! Selected from an area called Santo Stefano, the grapes come from 30-year-old vines giving the wine added depth and complexity. There is also no malolactic fermentation which translates to crisp acidity. Overall, it is very elegant with enough versatility to enjoy on its own or go with a variety of seafood, chicken, or creamy cheeses.
Regular Price $23.99
Town Center Solid or Mixed Case $19.19/Bottle
SAVE 20%

Vietti Barbera d'Asti Tre Vigne 2014
This is much bigger than your average Barbera with lots of earthy notes, solid acidity, and velvety tannins. The grapes come from multiple vineyards, among them being La Crena, the oldest vineyard the estate uses, resulting in a well-balanced wine. It spends 16 months aging in oak and is moved to steel tanks for 2 months. The end result is complex, smooth, and made to be paired with a rich pasta dishes and meats.
Regular Price $19.99
Town Center Solid or Mixed Case $15.99/Bottle
SAVE 20%
I look forward to meeting you soon!
Jonathan Ryder
Manager




* Wine & Spirit Education Trust Certified *
Town Center Wine & Spirits
Cape Cod's Most Trusted Wine Merchant
Location
4550 State Highway
North Eastham, MA 02651
(Next to the Royal Thai Restaurant in the Town Center Plaza)
Tel: 508 255 3660
Fax: 508 255 6736

Spring Hours

Mon-Sat: 9 a.m. to 9 p.m

Sunday: 10 to 6 p.m.

We're open year round.
Closed only on Memorial Day, Thanksgiving and Christmas.