Wine Buyer's Guide To France
The Middle Loire: Under-Rated, Long Forgotten But Worthy of Exploration
Few wine regions evoke as big a YAWN as the Middle Loire Valley. Unless you're an uber hip wine geek who obsesses about Chenin Blanc and Cabernet Franc, there's probably no good reason why you would be overly familiar with this wine region.
We're not intending to slam the Middle Loire; it never did anything to us and it's really not a personal matter. We just don't tend to drink either of these two grape varieties at home. We bet most of you don't either.
So why are we even writing about it? Precisely because we need to remind ourselves to keep an open mind and try new things -- even if we've been there, done that. Everything changes -- wine appellations, weather and climate, winemaking techniques and the evolution of wine itself -- so it's worth revisiting wine regions you don't drink on a regular basis. It keeps everything fresh, adventurous and fun!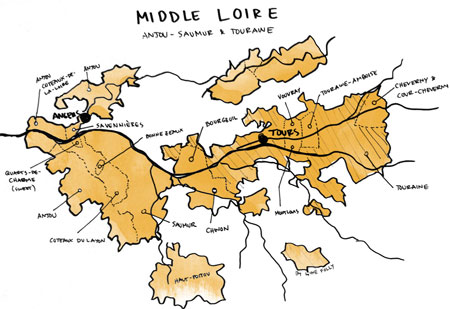 The Middle Loire is home to manifold expressions of Chenin Blanc ranging from bone dry white wines to luxuriously sweet dessert wines, mesmerizing and truly unique sparkling wines, and the red wine grape Cabernet Franc in all of its funky glory.
Rather than sort through the nuances of each and every appellation in the Middle Loire (ho hum, there are books for that), we're going to focus on the most important wine production areas and skip the small potatoes. So let's go ahead and start with the reigning white wine queen of the region, Miss Chenin Blanc.
Whenever we talk about wine grape specifics we always head straight to the boss, Jancis Robinson, Master of Wine. Her tome, "Wine Grapes: A Complete Guide to 1,368 Vine Varieties, Including Their Origins and Flavours," is the source for everything you ever wanted to know about wine grapes (and then some).
According to Jancis, "what earned and still earns Chenin Blanc its place with the greatest of grape varieties for me is its finest incarnation as extraordinarily long-lived, uniquely-flavoured botrytised sweet wines in the Loire Valley."
High praise indeed coming from the big kahuna. She brings up a fascinating point about incarnation though. You see, Chenin Blanc is a bit of a chameleon. Just like an Old World lizard lounging in the sun, Chenin Blanc is capable of entirely changing its outward expression. Within this one single wine region in France there are bone dry versions (the epitome of which is Savennières), middle-of-the-road styles (Sec and Demi-Sec versions of Vouvray) and extraordinary world-class sweet dessert wines which are capable of aging for decades.
Let's start with the driest of the white wine bunch. According to Jancis Robinson, "Savennières is a tiny appellation famous for making stern whites that can take a decade to be approachable." Due to very high acidity, Savennières are age-worthy expressions of Chenin Blanc with concentrated flavors of white linden flowers, anise, herbs, pear, honey and hazelnut. Perhaps not everyone's cup of tea, admittedly, but fascinating nonetheless and 100% worthy of exploration. Savennières benefits from aging (and often requires it) so that the wine can mature into a wonderfully complex and glorious expression. It's a must try for those with time and patience (and $$), especially if you're a fan of world-class white wines.
Domaine des Baumards Savennières 2016

Check out the drinking window on this wine! Soooooo very cool. Domaine des Baumards is a benchmark producer in this region.
"Piercing and pure, with pear, green apple and green almond notes carried by a sleek, minerally edge. Shows juiciness along the edges and flashes of honeysuckle and bitter almond in the background. Drink now through 2033. 1,500 cases imported." (Wine Spectator).
Wine Spectator 93 points
$38.99/bottle or $374.30/12 pack case ($31.19/bottle) with our 20% case discount. Hovering just a tad above $30/bottle after discount, this world-class wine is something every wine lover should try, at least once. It's an iconic white wine whose production is miniscule.

If Savennières feels like diving off the deep end without getting your feet wet first, you may want to explore a generic level appellation Chenin Blanc to begin your exploration of the Middle Loire Valley. We have a great one we keep on hand precisely for that reason.
Château de la Mulonnière M de Mulonnière Chenin Blanc 2016

This is an historic wine estate which has been producing excellent wines since 1860. M de Mulonnière is its second label, brimming with value.
"Subtle aromas of almond and acacia, complemented by fresh grape and honey notes. On the palate, the wine is soft and well-balanced with lovely length due to the freshness provided by the Chenin Blanc. Enjoy as an aperitif to share with friends. The perfect accompaniment to fish - both cooked and raw, Indian or Asian-inspired dishes." (Winemaker notes)
$14.99/bottle or $143.90/12 pack case ($11.99/bottle) after our 20% case discount.

Moving up the Chenin Blanc appellation ladder, Vouvray produces wines in many different styles, ranging from dry whites to precious and indulgent sweet wines. Wine labels from this appellation may not always indicate the style of the wine, but when they do in order from dry to sweet, Sec is the driest, followed by Demi-Sec (medium dry) and then two lesser known sweet wine classifications called Moelleux and Doux which are somewhat unusual to find in this country. Vineyards in Vouvray sit on a special type of soil known as tuffeau limestone which imparts both minerality and intense fruit flavors.
La Craie Vouvray 2017

Chenin Blanc is one of the most noble white wine varietals planted in France, rivaling Riesling for its complexity, ageability and depth of soul. Vouvray La Craie is 100% Chenin Blanc produced from young vines (15- 25 years old). This bottling is a light demi-sec. "La Craie" (or "chalk" in French) refers to the abundance of white, soft rock in the area known locally as "Tuffeau."
$18.99/bottle or $182.30/12 pack case ($15.19/bottle) with our 20% case discount.

Clos du Gaimont Vouvray 2017

"François Chainier purchased this parcel in 1997 in the Clos de Nouys, where he now produces a classic Vouvray. His 2017 is tight and reduced at first, the flinty notes slowly yielding tart-apple flavors with a limestone-dust mineral cool. Stay with it over the course of several days and that fruit extends its savor, the scents evoking an abandoned apple orchard in the woods. Concentrated and cellar worthy, this needs five years to show its best with pan-roasted trout." (Wine & Spirits Magazine)
Wine & Spirits Magazine: 93 points
$19.99/bottle or $191.90/12 pack case ($15.99/bottle) with our 20% case discount.

And now for something really, really special.
Sweet dessert wines made from Chenin Blanc in the Middle Loire are without doubt world-renowned. Bonnezeaux, Coteaux du Layon and Quarts de Chaume stand out in this region, all of which are produced from late harvest and/or botrytized grapes that can age for really lengthy periods. Dessert wines at this upper echelon are always expensive, and frequently overlooked in this country, but 100% worthy of your attention. We have stocked at least one of these beauties in our store continuously for nearly two decades.
Domaine des Baumard Quarts de Chaume 2009

"Bold, lush and tropical in feel, with creamed papaya and mango notes seamlessly gliding together, while coconut, green plum, ginger, quince and white peach flavors fill in the background. Offers a succulent finish, but stays pure and steady thanks to perfectly embedded acidity. Best from 2015 through 2030. 250 cases imported." (Wine Spectator)
Wine Spectator: 96 points
"The Quarts de Chaume are four ridges that jut out into the Layon valley, subject to botrytis because of the mists that come from the valley floor. This fine example is smooth, opulent and unctuous in character, a richly sweet wine. It is full of noble rot while also exhibiting the all-important acidity. Honey, ripe peaches, pineapple are still prominent." (Wine Enthusiast)
Wine Enthusiast: 94 points, Cellar Selection
$42.99/bottle or $34.39/bottle in a mixed case of wine with our 20% case discount. This dessert wine is not available by the case at this time and as such is limited to the stock we currently have on hand. Orders will be filled on a first-come, first-served basis.

And now for those bubbles we promised. Ooooohhh those bubbles!
Saumur is largely known for its crazy good sparkling wines which are frequently labelled Crémant de Loire. These wines use the same traditional method as Champagne but feature less aging and different grape varieties. Saumur sparklers are typically made from Chenin Blanc (for whites) and Cabernet Franc (for rosés) whereas proper Champagne is made from Chardonnay, Pinot Noir and/or Pinot Meunier.

Louis de Grenelle Corail Saumur Rosé sparkling wine is always in regular rotation in our home. This delicious wine is made from 100% Cabernet Franc but you would never know it. According to the winemaker, "the bouquet is a festival of small red fruit (raspberry and wild strawberry) and flowers (such as iris and violet). Any time a festival like this is happening we'll definitely be there. It's soooo good.
$21.99/bottle or $211.10/12 pack case ($17.59/bottle) with our 20% case discount. At less than $18/bottle after discount this wine should definitely be in your everyday bubble rotation.

Now let's explore the dominant red wine grape in the Middle Loire Valley, Cabernet Franc. Cabernet Franc tends to be a "love it" or "hate it" grape variety in our industry. In the aforementioned sparkling wine it's a definite rock star. Many of you will recall that Cabernet Franc was originally used as a blending grape in the Right Bank of red Bordeaux.
In the Loire Valley it's a star in its own right and a favorite amongst some hardcore wine geeks, comprising between 90-100% of appellations such as Chinon, Bourgueil, St. Nicolas de Bourgueil and Saumur-Champigny.
In America two appellations in the Loire Valley are notable for Cabernet Franc and should be easy to find -- Chinon and Bourgeuil (although up to 10% of these wines can include Cabernet Sauvignon). The other appellations are far more popular in French bistros.
Love it? OK, we understand! Cabernet Franc is light to medium-bodied with earthy (aka, rustic) dark fruit qualities.There's a certain "beefiness" to these wines (take that as you will) as well as olive tapenade aromas and flavors with the potential for racy acidity. If you're looking for a less powerful red wine to pair with food, particularly in the summer, then you might want to steer in this direction.
Cabernet Francs from the Loire are quite distinct and rather unmistakable, even in blind tastings. Thank goodness those blind tasting examination days are over -- they were brutal. Cabernet Franc always made easy work for us on those exams though, so cheers for that buddy.
Hate it? We totally get that too. In the cooler regions of the Loire Valley Cabernet Franc can be herbaceous and brimming with pyrazine nuances (think green pepper and tomato stem flavors) due to grapes not ripening properly.
In addition, these wines can be weedy with whiffs of smoke tainting the wine. Combine that with beefy notes and the suggestion of olive tapenade and, well, you get the point. These are wines that definitely require food in order to shine.
If you're open to this unique style of red wine served in many French bistros, there are some really high quality producers who are worth your time. We feature several of them.
Less than 15 producers of Chinon are imported into Massachusetts as of this writing. We feature an entry level version as well as one of the world's classics.
Bouqueteau Chinon 2016

This entry level Chinon is 100% Cabernet Franc. It's solid and concentrated with black fruit flavors and good underlying acidity. "While this is certainly a young fruity wine, it also has a soft texture to go with the juicy black fruits to make it ready to drink now. It is smoky, lightly tannic and packed full of ripe fruits." (Wine Enthusiast)
Wine Enthusiast: 87 points
$14.99/bottle or just $143.90/12 pack case ($11.99/bottle) with our 20% case discount.

Domaine Bernard Baudry Chinon 2017

"A gorgeous red, with tobacco, bay leaf and black pepper notes underscoring the dark cherry and cola flavors. Beautifully integrated tannins join the fresh acidity and create a solid structure that gives this harmony and promises a long life ahead. Delicious now, but should be even better in a few years. Best from 2021 through 2030. 600 cases imported." (Wine Spectator)
Wine Spectator: 92 points
This tiny production wine is top of its class, especially for its price. $23.99/bottle or just $230.30/12 pack case ($19.19/bottle) with our 20% case discount.
Only three producers of Bourgueil are imported into Massachusetts as of this writing. We have chosen to feature a more moderately priced version as an introduction. If you become serious about this appellation then higher tiered versions start around $40/bottle and can be special ordered by yours truly.

Domaine de la Chanteleuserie Bourgueil 2017

This wine is made from 100% Cabernet Franc with vines planted between 1967 and 1980 on limestone and clay over tuffeau. Fermented and aged exclusively in stainless steel, it has a pretty violet color, fine and silky texture, and earthy yet bright red raspberry flavors.
$17.99/bottle or just $172.70/12 pack case ($14.39/bottle) after our 20% case discount.

We hope you've enjoyed our exploration of the Loire Valley in France. Next week we'll be presenting our final portion of the Loire Valley and we'll explore world-class gems like Sancerre and Pouilly-Fumé
If you would like to order any of these wines by the case please press reply to this email and we'll be back in touch within one business day.

© 2020. Plumb Cottage Productions.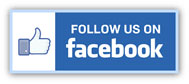 * Wine & Spirit Education Trust Certified *

Town Center Wine & Spirits
Cape Cod's Most Trusted Wine Merchant
Location
4550 State Highway
North Eastham, MA 02651
(Next to the Royal Thai Restaurant in the Town Center Plaza)
Tel: 508 255 3660
Fax: 508 255 6736

Winter Hours

Mon-Sat: 9 a.m. to 9 p.m.

Sunday: 10 a.m. to 6 p.m.

We're open year round.
Closed only on Thanksgiving and Christmas.