A Serious Bargain and An Off-the-Radar Delight
September means one thing to us. It's time to start drinking red wine again on a regular basis. We'll be featuring lots of gorgeous reds over the next few weeks, but we wanted to begin our journey into autumn with a wallet-friendly, easy-drinking red that's perfect for company.
Let's face it, the secret is out -- everyone who knows the Cape realizes September is often the best month of the year -- great weather, less traffic, left turns are suddenly an option and there's less hassle all around. That means more possibilities for company, lots more wine and more fun for everyone.
Today's red wine is an off-the-radar, straight up delight from the ancient fortified city of Carcassonne in the Languedoc-Roussillon region of France. We visited there years ago on a wine buying trip and fell in love at first sight.
Laroque means "the rock," and it's produced from vineyards located in the hills of Carcassonne where vineyards have been producing wine since the 6th century!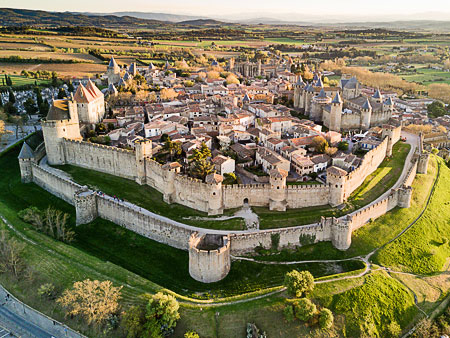 Carcassonne
Many of you already know Cabernet Franc is a blending grape in Bordeaux, yet it's also an important wine in the Loire Valley where it's the star in appellations such as Chinon, Bourgueil and Saumur-Champigny.
We can't wait to share this wine with you. It has a high quality to price ratio and is a SERIOUS BARGAIN at less than $11/bottle after discount. The press agrees with us. As you'll soon find out, they like it quite a bit. This is a dry red wine for cool autumn evenings and maybe even a steak or hamburger on the grill.

Domaine Laroque Cité de Carcassonne Cabernet Franc 2017
"Aromas of blueberries, strawberries, lavender and violets. A beautiful and clean red. Full body, fine tannins and a delicious finish. I like the candid character here. Drink now." (James Suckling)
James Suckling: 90 points
"Juicy currant and boysenberry fruit is detailed with herb, savory spice and mineral accents in this focused, medium-bodied red, with moderate tannins. Notes of green herb and pepper mark the clean finish. Drink now through 2021. 10,000 cases made." (Wine Spectator)
Wine Spectator: 88 points
Wine Spectator: Best Values
$12.99/bottle or just $10.39/bottle in a solid or mixed case of wine (20% off).
With 90 points and an everyday price of $12.99 this wine is sure to please. For less than $11/bottle after discount it's a great value. In order to secure your wine, please call the store, reply to this email or stop by to place your order.
Hello Autumn, we're happy to see you on our doorstep.



* Wine & Spirit Education Trust Certified *

Town Center Wine & Spirits
Cape Cod's Most Trusted Wine Merchant
Location
4550 State Highway
North Eastham, MA 02651
(Next to the Royal Thai Restaurant in the Town Center Plaza)
Tel: 508 255 3660
Fax: 508 255 6736

Late Summer Hours

Mon-Thurs: 9 a.m. to 9 p.m.

Fri-Sat: 9 a.m. to 10 p.m.

Sunday: 10 a.m. to 6 p.m.

We're open year round.
Closed only on Thanksgiving and Christmas.