The Great White Summer Wine
Albariño is an amazing wine for warmer weather and people have been picking up on this more and more. Some people make the connection of it being Spain's Pinot Grigio and, While I do agree Albariño is easy to drink and the wine can disappear before you know it, I feel it stands out as more complex due to its vibrant acidity and strong citrus flavors.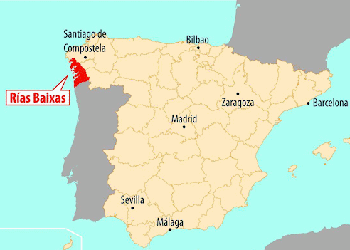 Rías Baixas is where Albariño calls its home and it is seen as an ideal place to make great quality white wine. In fact, over 99% of all the wine produced in the area is white. If that isn't enough of an approval rating, I don't know what is! It does get a little more complicated though as there are different sub-zones that express both distinct and subtle differences. The area permits the growth of twelve different grape varieties, but Albariño represents 96% of the vines planted.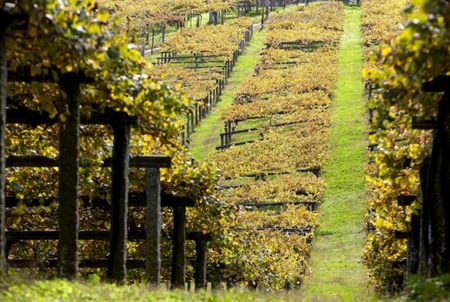 As the years have passed the quality and close attention has grown for this region, and rightfully so. In the fields the growers combat the region's high natural rainfall and humidity by having most vines trained on a wire trellis to promote the grapes growth. Throughout the region, yields are kept low to preserve the quality of the wine, something that your average Pinot Grigio does not do often.

For me, after finding out just how much goes into creating Albariño it is hard to make a comparison to Pinot Grigio; however, at Town Center we are thorough in our research and tastings had to occur. Two stood out as excellent examples of Albarino's consistent easy-drinking style while retaining complexity.


Burgans Albariño 2015
A custom cuvée made for European Cellars by Martin Codax, the Burgans Albariño is named after the hill on which the cooperative is located. It is made from a small selection of vineyard plots in the Salnes sub-zone of Rías Baixas which have a characteristic pit-fruit quality and richness in addition to the bracing minerality for which the sub-zone is famous.
Regular Price $15.99
Special Town Center Case Price $12.79 SAVE 20%




Pazo Senorans Albariño 2015
This is one of the oldest estates in the region and one of the few that remain family owned to this day! That kind of dedication and passion definitely follows over into their wines that are held as some of the best of the region. Pazo de Señorans is a blend of estate-grown Albariño supplemented by the fruit that Mareque family buys from the many small farms and property near their cellars. It is a mix of young and old vine fruit, most of it planted on traditional pergolas to provide aeration in the damp climate of Rías Baixas.
Regular Price $23.99
Special Town Center Case Price $18.40 SAVE 20%
Both of these wines will offer great enjoyment as our Cape Cod summer begins. I highly recommend not just taking the facts and my word for it, but taste the wines for yourself! Join me this Friday, between 1:00PM-4:00PM, to taste these and other wines!

Cheers!
Jonathan Ryder
Manager




* Wine & Spirit Education Trust Certified *
Town Center Wine & Spirits
Cape Cod's Most Trusted Wine Merchant
Location
4550 State Highway
North Eastham, MA 02651
(Next to the Royal Thai Restaurant in the Town Center Plaza)
Tel: 508 255 3660
Fax: 508 255 6736

Summer Hours

Mon-Thurs: 9 a.m. to 10 p.m.

Fri-Sat: 9 a.m. to 11 p.m.

Sunday: 10 to 6 p.m.

We're open year round.
Closed only on

Thanksgiving and Christmas.