Outstanding Cabernet Sauvignon; Ranked 29th in Wine Spectator's Top 100 Wines of 2017!
I've always been a fan of Cabernet Sauvignon from Chile. To me, I find they merge the exuberant fruit that is a trademark of New World wines with the traditional and restrained style that we come to expect from Europe, especially places like Bordeaux.
Not only that, but the value of Chilean wines is unbelievable!
Maipo Valley is the best place to find Cabernet Sauvignon in Chile, which is just south of the capital, Santiago. Although Chile only recently became recognized as a quality wine producing region in 1990, they have been making great wines since the 16th century! During those early days, many vines were brought over from Europe, primarily France, and planted throughout Chile with the Maipo Valley seeing some of the best vines from the most prestigious areas. Some of the current vines today are even among the very few in the world that date back before the Phylloxera epidemic that nearly devastated the worlds wine industry in the late 19th century.

Chile became a wondrous place to grow outstanding grapes and that is what led Pedro Pavone Voglino to leave his home in Piedmont, Italy to create what would eventually become Santa Ema in 1956. To say that generations of experience and  tradition goes into each and every bottle would be an understatement. Top that off with frequently getting high marks from wine critics across the world and it is clear to see why this estate is often sought after by wine consumers in the know.


We were able to get a very special allocation of a handful of cases of their most recent blockbuster: Santa Ema Cabernet Sauvignon Reserva 2015. The 2015 vintage was easily one to remember as the area had almost ideal growing conditions that allowed owners to harvest early with the resulting juice offering amazing fruit character and excellent tannin maturation.
Not only did this wine get 91 points from BOTH Wine Spectator and James Suckling, but it earned a 29th place as one of Top wines of 2017 from Wine Spectator!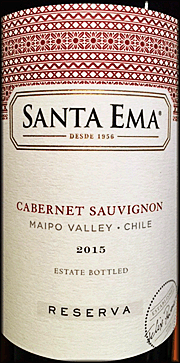 Santa Ema Cabernet Sauvignon Reserva 2015 – Maipo Valley, Chile
91 Points Wine Spectator
#29 in Wine Spectator Top 100 Wines of 2017
"Dark plum and dried red berry flavors dominate this muscular red, with plenty of minty and savory accents. Medium-grained tannins support chocolate and cream details on the finish. Drink now through 2021."
91 Points James Suckling
"Dark berry and hints of lemon and rose petal. Medium to full body, fine tannins and a fresh finish. Drink now or hold."
Regular Price $17.99
Special Town Center Case Price $172.68 ($14.39/Bottle) SAVE 20%
Our shipment of Santa Ema is due to arrive this week and we expct every bottle to be sold out before next Monday, so act now if you want to taste just how good this wine really is!
Cheers!
Jonathan Ryder,
Manager



* Wine & Spirit Education Trust Certified *
Town Center Wine & Spirits
Cape Cod's Most Trusted Wine Merchant
Location
4550 State Highway
North Eastham, MA 02651
(Next to the Royal Thai Restaurant in the Town Center Plaza)
Tel: 508 255 3660
Fax: 508 255 6736

Winter Hours

Mon-Sat: 9 a.m. to 9 p.m.

Sunday: 10 to 6 p.m.

We're open year round.
Closed only on

Thanksgiving and Christmas.