Uniquely Made Red Wines of Tremendous Quality!
We first encountered Intrinsic Cabernet when we put together a tasting featuring the wines of Antinori. The tasting included a wonderful selection of some of the best of the best that their Italian wines had to offer and also wines from their American division of Chateau Ste. Michelle Estates.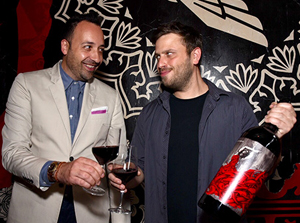 When we first saw the label of Intrinsic we didn't know what to expect. It is definitely eye catching and, in our experience, that does not always bode well for the contents of the bottle; however, when we took our first sips we were pleasantly surprised by the depth and complexity this lovely wine offers almost effortlessly. The art was designed by a Brooklyn street artist known as Zimer (seen here with winemaker Juan Muñoz-Oca) using a technique called Wild Style. See for yourself the creation from start to finish HERE.


The wine itself was what inspired Zimer as he feels it is "deeply rooted in tradition but re-imagined for modern taste." Truer words could not be more accurate with how this wine was created. Juan Muñoz-Oca, head winemaker of Columbia Crest, is the man behind the wine. Raised in Mendoza, Argentina under the tutelage of his grandfather, cellar master at Bodegas Toso winery, he learned a deep love and appreciation of every aspect of winemaking. He spent time working in Spain and Australia before finally finding his home in Washington.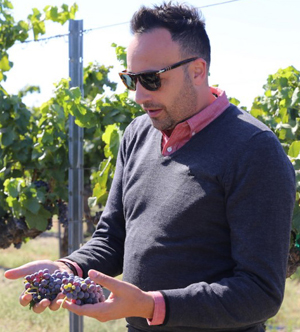 Intrinsic Cabernet began as an experiment, one that Oca put his full passion and experience into. Normally, red wines are produced by crushing the grapes, then leaving the juice and the skins together for a week to 10 days. Oca wanted to see what would happen if he left the wine in contact with the skins a little longer – as in nine whole months. The result allowed Oca and his team to have the wine represent itself in the fullest by not even needing the addition of barrel aging. Oca felt that the added contact with the skins gave Intrinsic the same feel of being aged in new oak yet without the typical vanilla and toasted notes. Rather than using the oak to help smooth out the tannins of the wine, this new method let the wine smooth out its own tannins naturally, thus being a true representation of the fruit itself.
2014 was the first vintage of this highly impressive wine and the 2015 is showing just why Oca holds this as one of his own personal achievements. Top that off with the critics loving the wine too and this becomes a wine that is hard to resist!
If you have yet to try it for yourself we highly recommend doing so as soon as you can and we want to make that opportunity even more appealing by offering it at a special price today! In addition, they have just released a completely new red blend that offers another enjoyable and very well made option to consider.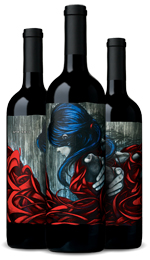 Intrinsic Red Blend 2016 –
Columbia Valley, WA
A blend of 52% Cabernet Franc, 44% Malbec, 3% Cabernet Sauvignon and 1% Merlot
"For me, Malbec and Cabernet Franc go together like peanut butter and jelly. This wine opens with refined notes of raspberry, white tea leaves, a hint of fresh mint and lavender. The flavors are layered with milk chocolate, fig reduction, dark plum and licorice root, and the texture is angular, yet sophisticated, with chocolate ganache details in the finish." (Juan Muñoz Oca , Winemaker)

Regular Price $22.99
Town Center Mixed or Solid Case Price $215.88 ($17.99/Bottle)
SAVE 22%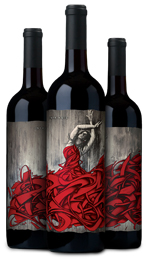 Intrinsic Cabernet 2015 –
Columbia Valley, WA
90 Points Wine Enthusiast
"This is a one-of-a-kind wine in the state, with 50% of the wine fermented on skins for nine months and the rest aged in concrete and older oak. Pure red- and blue-fruit aromas are followed by bold fruit flavors and well-integrated tannins, without a trace of oak in sight. It's a completely unique interpretation of the variety, but most importantly, it's delicious."
89 Points Wine Advocate
"Made from 90% Cabernet Sauvignon and 10% Cabernet Franc, the impressive 2015 Cabernet Sauvignon offers lots of upfront cassis and spice characteristics as well as medium to full-bodied richness, lots of fruit and a forward, delicious, hard to resist style. It's a big mouthful of Cabernet fruit and done very well."
Regular Price $22.99
Town Center Mixed or Solid Case Price $215.88 ($17.99/Bottle)
SAVE 22%
Cheers!
Jonathan Ryder,
Manager



* Wine & Spirit Education Trust Certified *
Town Center Wine & Spirits
Cape Cod's Most Trusted Wine Merchant
Location
4550 State Highway
North Eastham, MA 02651
(Next to the Royal Thai Restaurant in the Town Center Plaza)
Tel: 508 255 3660
Fax: 508 255 6736

Winter Hours

Mon-Sat: 9 a.m. to 9 p.m.

Sunday: 10 to 6 p.m.

We're open year round.
Closed only on

Thanksgiving and Christmas.