Drink Like Royalty Tonight!
The reason why wine became such a passion for me, aside from the obvious enjoyment of drinking it, was largely due to the history and culture that fills every bottle. This is why I have always been drawn to France and Italy seeing as they are so rich with history and wine growing traditions that it is hard not to acknowledge. Besides, drinking the same wines that kings, popes, and nobles have been drinking for centuries has a certain appeal as well.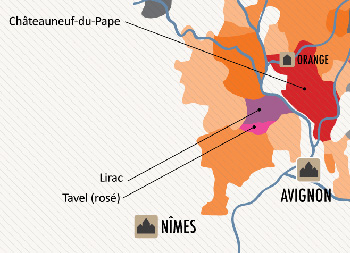 Today, we turn our attentions to the village of Lirac that lies to the west of the Rhône river and just a little over 10 km (a little over 6 miles for those of us in the New World) away from the renowned Châteauneuf-du-Pape. Like most of the Rhône Valley, Lirac has a lot of history centered around wine with it being produced there since pre-Roman occupation. The Romans, being wine fanatics, only improved on the production of the area, which led to the wines of the region becoming the favorite of kings and the papal community in Avignon.
Most notable Lirac enthusiast were Pope Innocent IV, Henry IV of France, and Louis XIV.

To honor such a prestigious history we thought it would be appropriate to put a spotlight on one of the last family estates in the area, Le Plateau des Chênes. Not only has the estate been celebrated since 1900, when the great grandfather, Auguste, was given the gold medal at the general agricultural competition in Paris, but the estate is located on some of the best terroirs in the entire appellation of Lirac! The name "Le plateau des chênes" is in reference to a former bed of the Rhône river where the vines grow today in red clay and sand with round pebbles that make you think you are actually in Châteauneuf-du-Pape.


These days Lirac does not get nearly as much attention as it deserves, but that is changing and we seek to be a part of that movement. The wines from this appellation can stand up to any Cru throughout Côtes du Rhône and the higher quality ones, like the one we are featuring, can even stand up to Châteauneuf-du-Pape.
Combine that with being less than half the price of your average Châteauneuf-du-Pape and you have a winning combination that has Harley rolling over for!


Famille Brechet Plateau Des Chênes Lirac Rouge 2013

91 Points Wine Advocate


"The 2013 Lirac Plateau des Chenes red is composed of 70% Grenache and 30% Syrah (60- to 80-year-old vines) aged nine months in a combination of demi-muids and older barrels. Its deep ruby/plum color is followed by a sweet kiss of kirsch, black raspberries, lavender, pepper and flowers. Perfumed, elegant, medium-bodied and gorgeously fruity and lively, it can be enjoyed over the next several years."



Regular Price $22.99
Special Week Long Bottle Price $17.99
SAVE 20%
Town Center Solid Case Price $191.88 ($15.99/Bottle) SAVE 31%


Join me this Friday, between 1:00PM-4:00PM, to taste both the white and red of this estate and see just why Lirac deserves its place among the great regions in Côtes du Rhône!

We are always on the hunt for wines that offer a rich history, amazing quality, and plenty of value to have us buying a few more bottles than we intended. This one fits the bill in all categories. Feel free to let us know wines that YOU are interested in. The best thing about wine is sharing it and we love hearing from our customers about the wines you all enjoy. It may even lead to us featuring some of your favorite wine growing regions in the future! Cheers!
Jonathan Ryder
Manager




* Wine & Spirit Education Trust Certified *
Town Center Wine & Spirits
Cape Cod's Most Trusted Wine Merchant
Location
4550 State Highway
North Eastham, MA 02651
(Next to the Royal Thai Restaurant in the Town Center Plaza)
Tel: 508 255 3660
Fax: 508 255 6736

Spring Hours

Mon-Sat: 9 a.m. to 9 p.m

Sunday: 10 to 6 p.m.

We're open year round.
Closed only on Memorial Day, Thanksgiving and Christmas.