Close Kept Chardonnay Secret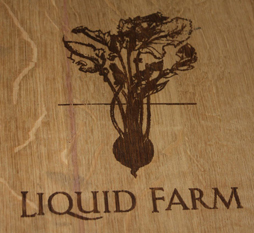 The owners of Liquid Farm started up their winery because they were tired of the typically juicy, alcoholic fruit bombs found in California. Fortunately for us, their frustration caused them to create some of the very best terroir-driven, Old World style Chardonnays and Pinot Noirs we've ever had from California!
We first heard about this winery from a serious wine insider who works for a legendary French wine importer who specializes in wines from Burgundy. He almost whispered across the table like he had a secret he didn't want anyone else to hear, "hey, have you checked out Liquid Farm yet?" We said no, but we had seen them in the press with sensational reviews.
"You've got to get your hands on their Chardonnay. It's a really tiny production and incredibly difficult to get, but I've never had anything as good coming out of California. If you have any clout with your wholesaler, then make sure you get a case or two when it's released. You'll be blown away."

Seeing as this whispering individual actually taught our class on Burgundy at the Advanced Certification of the Wine & Spirit Education Trust in Boston many years ago, we listened really closely. It's moments like this that help us to create some serious magic in the store.
In the following months, we kept this conversation close to heart, and as soon as the new vintage was released we pounced on it like a lion. The day the wine arrived we opened it in our tasting room and we all swooned. We immediately understood why our friend the Burgundy expert tipped us off. It had more complexity and nuance than we could have ever expected. That night we served it with grilled lobster and let's just say things got real.

We don't typically enjoy Chardonnay from California, instead preferring to source Chardonnay from cool climate Burgundy, but Liquid Farm may just be the holy grail for New World Chardonnay. It's one of the most elegant, refined and beautiful white wines you'll ever come across.


Liquid Farm La Hermana Chardonnay 2015
With a nod to the deep Spanish roots of the town of Santa Maria, Liquid Farm created "La Hermana" which they began producing in 2013. It became the first "sister" to their Sta. Rita Hills Chardonnays, hailing from the neighboring AVA of Santa Maria.
This stunning Chardonnay tastes very much like an elevated white Burgundy both in terms of its class and its acidity and underlying minerality. Drink it with lobster, halibut or scallop crudo and watch the magic unfold.
"Hints of green pineapple, lime peel, white grapefruit flesh and lemongrass. Lean and racy with a "drive-by" of stone fruit but it's all about minerality showing that maritime influence allowed by the fog. Long, mouthwatering finish." (Winemaker's Notes)
This wine was fermented and aged in 100% neutral barrels (yay!). Drink now through 2023.
Regular Price $43.99/bottle
Town Center Wine & Spirits Special Solid or Mixed Case $422.30/12 pack ($35.19/bottle)
This wine has very limited availability, so we suggest you get your hands on some by pressing reply to this email, calling the store, or stopping by to reserve yours while you can.




* Wine & Spirit Education Trust Certified *
Town Center Wine & Spirits
Cape Cod's Most Trusted Wine Merchant
Location
4550 State Highway
North Eastham, MA 02651
(Next to the Royal Thai Restaurant in the Town Center Plaza)
Tel: 508 255 3660
Fax: 508 255 6736

Summer Hours

Mon-Thurs: 9 a.m. to 10 p.m.

Fri-Sat: 9 a.m. to 11 p.m.

Sunday: 10 to 6 p.m.

We're open year round.
Closed only on

Thanksgiving and Christmas.