2015 Burgundy Under $30.00!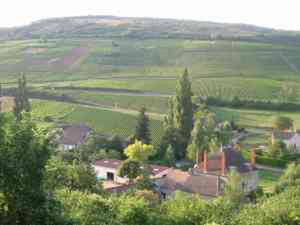 You won't see many red Burgundies (which are made from Pinot Noir) making our list of top wine values. That's because finding a delicious red Burgundy for under $30.00 is nearly an impossible task. Nearly.
We haven't seen one in years. We've tried hundreds, but nearly all of them have fallen short. In our opinion, you need to spend more than $40/bottle on average just to find something that's drinkable, much less delicious.
"Pinot Noir can be among the most amazing wines you'll ever taste, and it can be flat-out anticlimactic. It inspires more rhapsodies—and disappointments—among wine lovers than any other grape." (Food & Wine Magazine)

It doesn't help that prices have absolutely soared in recent years. Scarcity is a big issue. Crazy weather storms have played havoc with the vineyards, leaving some vintages with few grapes to even make wine. Some vineyards have been entirely wiped out from hail. Plus, well, it's Burgundy.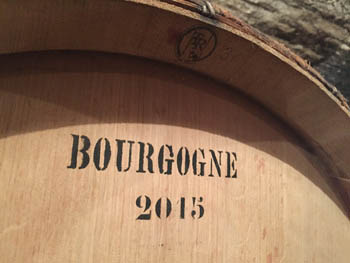 If you're a history buff, or simply thirsty for wine knowledge, you probably already know about the appellation system in Burgundy. It's nuts. You can thank Napoleon for that. After the French Revolution of 1789, the church's remaining vineyards were broken up and sold and new Napoleonic inheritance laws were enacted, resulting in continual subdivisions of the most precious vineyard holdings in the world. When we use the term "subdivisions" we're not kidding. Some growers were left with only a single row or two of vines!
France has seen some really great vintages over the years and 2015 is one of them. What a great year for wine and Burgundy is no exception. In the wine we are featuring today the quality of this vintage can clearly be seen.
Really pretty fruit, a bright beam of raspberry color in the glass, and much tastiness and satisfaction awaits.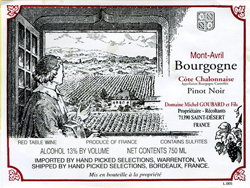 Domaine Michel Goubard Et Fils Bourgogne Rouge Côte Chalonnaise 2015
***Limited Availability!***

The Goubard family has been making wine in Burgundy since the 17th century. Robert Parker of Wine Advocate fame dishes them a full plate of respect:
"I have had at least 25 years of tasting experience with Domaine Michel Goubard et Fils, one of the first well-made value selections from the Cote Chalonnaise. It continues to make some of the most reliable wines from that region." (Robert Parker, Wine Advocate)
Reliable, indeed! The 2015 vintage has great fruit, as well as smooth and supple tannins. It's drinking great right now, but could be aged another 7-10 years. Personally, we wouldn't wait.
Regular Price $21.99
Town Center Special Solid Case Price $17.59 SAVE 20%

At less than $18/bottle this is one fantastic Pinot Noir with loads of Burgundy character. We recommend purchasing a case or two to help ease you into the coolness of autumn.
You could serve it with venison (believe it or not, Stop and Shop stocks D'Artagnan venison every so often), risotto with mushrooms, beef bourguignon (yum), a cheese course, or just sip it on its own. Or go out on a ledge like us and serve it with pan-roasted cod fish.
If you're skeptical about pairing red wine with fish, then head on over to
Wine Enthusiast Magazine for their take on the subject.
Just like any other food, searing, grilling or barbecuing fish creates an intensity of flavor which pairs well with red wine. Our good friends at Serious Eats always get things right, using science, technology and lots of experimentation to perfect recipes. The perfect way to crisp fish is over here:
It's been a long time since we've had an "entry level" red Burgundy that tastes this good. Dare we say, it's nearly a quaffer?!? It seems heretical to call any red Burgundy at any price point a quaffer, but there, we did it.
This is an unusual offer with limited allocation so act now if you want to stock up.




* Wine & Spirit Education Trust Certified *
Town Center Wine & Spirits
Cape Cod's Most Trusted Wine Merchant
Location
4550 State Highway
North Eastham, MA 02651
(Next to the Royal Thai Restaurant in the Town Center Plaza)
Tel: 508 255 3660
Fax: 508 255 6736

Summer Hours

Mon-Thurs: 9 a.m. to 10 p.m.

Fri-Sat: 9 a.m. to 11 p.m.

Sunday: 10 to 6 p.m.

We're open year round.
Closed only on

Thanksgiving and Christmas.