Outstanding New Cabernet Sauvignon
That is Sure to Impress!
We are always on the lookout for exceptional wines that over-deliver for their price points. Often, our attentions are focused on the wines of Italy and France but New World wines tend to release new and exciting wines that we keep our eyes out for. Today, our sights are turned to Chateau Ste. Michelle a very well known and respected producer that comes out with special releases that stand out as unique and just plain delicious.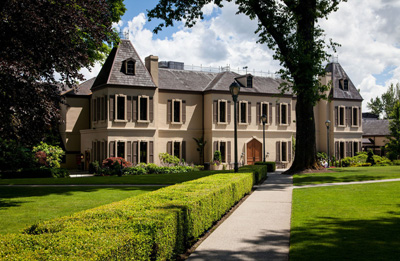 Ste. Michelle Wine Estates has just released a new Cabernet Sauvignon blend from a Washington AVA known as The Burn. The name comes from when the region's early settlers would burn their fields every autumn to regenerate the soil. The area offers ideal growing conditions for Cabernet Sauvignon with a very warm climate, high levels of precipitation and loose soil that is perfect for retaining moisture. Plans for this wine began in 2002 when just a few acres of Cabernet Sauvignon were planted. The vineyards were expanded over the next few years so that the 2016 vintage could produce a strong start.
The 2016 was a great place to begin as it offered the best of both worlds with a hot spring and early summer combined with cooler than normal ripening season resulting in a very ripe wine that retained a beautiful freshness and elegance. The Cabernet Sauvignon grapes were harvested from the Chapman Creek vineyard, composing of 90% of the final wine. The remaining 10% is Malbec that comes from Trailblazer vineyard, also cultivated in The Burn.

Borne of Fire Cabernet Sauvignon 2016
"Borne of Fire epitomizes the terroir of The Burn. This rugged, yet elegant wine leads with herbal expressive aromas laced with pomegranate and stony minerals. Upon tasting the wine, powdery tannins frame flavors of cherry, currant, savory spice, and red pepper. A green coffee inflected finish rounds out the overall experience. Pairs well with beef sliders, Caribbean pork sandwich,gnocchi with braised beef brisket and garlic chicken wings." (Juan Muñoz Oca, Winemaker)
See the vineyards and hear Mr. Oca talk about the wine himself here.
Regular Price $22.99
Town Center Wine & Spirits Solid Case Price $215.88 ($17.99/Bottle) SAVE 22%
Cheers!
Jonathan Ryder,
Manager



* Wine & Spirit Education Trust Certified *
Town Center Wine & Spirits
Cape Cod's Most Trusted Wine Merchant
Location
4550 State Highway
North Eastham, MA 02651
(Next to the Royal Thai Restaurant in the Town Center Plaza)
Tel: 508 255 3660
Fax: 508 255 6736

Winter Hours

Mon-Sat: 9 a.m. to 9 p.m.

Sunday: 10 to 6 p.m.

We're open year round.
Closed only on

Thanksgiving and Christmas.