Rare and Sensational Antinori Wine Seminar
We're thrilled to announce the return of the LEGENDARY Marchesi Antinori estate to Cape Cod!!!
You are cordially invited
to Join us Saturday, November 4th From 12:00 PM - 1:30 PM
For an Exclusive Wine Seminar with Tom Stewart, Chateau Ste. Michelle District Manager of Massachusetts
AND
Marco Dreary, East Coast Portfolio Manager of Antinori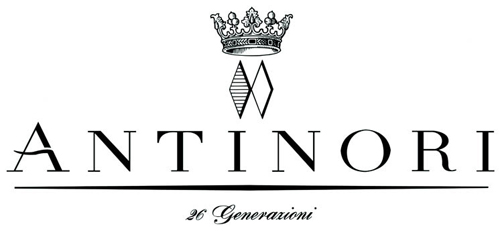 We hosted Marchesi Antinori two years ago and the event booked up in a matter of days with a very long waiting list. Here's why:
Antinori is one of the most important and prestigious wine makers in the world. Landing on the cover of Wine Spectator multiple times emphasizes this point.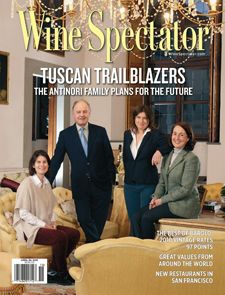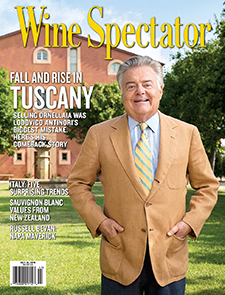 "If there were two wines that changed the face of Tuscany, they were Tignanello and Solaia," Wine Spectator senior editor Bruce Sanderson said.
According to Wine Spectator, "Where would Italy be right now without Marchese Piero Antinori? His family's name has become synonymous with quality Italian wines -- particularly those from Tuscany -- for millions of wine consumers around the world. Antinori, the family-owned Florentine wine company, produces about 1 million cases a year, from a simple and refreshing Trebbiano-based white called Villa Antinori to a majestic, well-structured Cabernet Sauvignon blend named Solaia. The Solaia, along with a Sangiovese blend called Tignanello, helped spearhead the renaissance of quality for Tuscany and, arguably, for the rest of Italy. They created a new category of wines from central Italy, called "super Tuscan" -- which have helped build a higher reputation for Italian wines around the world. Antinori makes premium wines from nearly every major appellation in Tuscany, including Vino Nobile di Montepulciano, Brunello di Montalcino, Bolgheriand Chianti Classico."

On Saturday, November 4, from 12:00 pm - 1:30 pm we will be hosting Marchesi Antinori in a small wine seminar format, with a maximum of 40 people. This kind of small group access is not only unusual, but groundbreaking. When we hosted this previously, we thought it was a once in a lifetime event, but lightning has struck twice and we are ecstatic that this opportunity has presented itself again!
This private wine tasting seminar is going to be a game changer for a small group of you. Seating is limited so the event is manageable and everyone is afforded personal access to the gentlemen from Marchesi Antinori.
If you want to join our small seminar group you'll need to
act quickly! We'll be tasting remarkable wines from Antinori's impressive Italian portfolio such as:
Badia a Passignano Chianti Classico Gran Selezione 2010 that received a 94 point Cellar Selection designation from Wine Enthusiast. This is Chianti on a whole different level from one of the best vintages in recent memory.

And then there's Antinori's Pian Delle Vigne Rosso di Montalcino 2014, which is made from the younger vines of their Brunello offerings. This head turning red is going to stop you in your tracks. It's sensational.

How about a well priced Bolgheri from Guado al Tasso called Il Brucato which received a 93 point score from James Suckling? Wow, wow, wow, it just keeps getting better and better.
Antinori also has prestigious holdings in California and Washington state which are nothing short of astounding.
Stag's Leap Karia Chardonnay springs to mind, along with the gorgeous red wine Col Solare from Washington state which received 94 points from Wine Advocate. These are just a few of the wines we'll be tasting.
Our private wine seminars are THE best way to learn about wine DIRECTLY from the source. Nothing will help you develop your palate or learn more about wine than a small guided tasting with an industry insider. That's how we first started building our foundation and even today we still attend private wine seminars in Boston and New York.
Direct access to wineries and importers is the key.
However, this time we don't just have an insider. We have an industry legend whose fame and prestige is recognized in every corner of the globe. Would you like to join us?
Most retailers would charge a hefty fee to attend an event of this magnitude, and rightly so. However, we're not most wine merchants. If you know us personally, you know it's our genuine passion to help you learn about wine and guide you through its nuances. It's why we do this. We love it. Have we mentioned the seminar will also be catered by SunBird in Orleans? Yay!
And, just in case we were not clear, this amazing event
is completely free!
While this seminar is being offered to you at no charge, there is one catch. Not all of you will be able to attend. We apologize, but space is always limited when we conduct a seminar format of this magnitude. The small size of the event is exactly the reason why it's such a great way to taste and learn about wine.
If you want to join us we suggest you make your reservation NOW.
Many of these wines are highly allocated and have very limited availability, so this is a remarkable opportunity to taste some of the world's greatest and most sought after wines with one of the world's most legendary wine families.
Special event pricing for the wines will be offered on a one-time basis the day of the seminar. After that, both the wines and the special pricing will vanish.
This is going to be our best private seminar yet, with TWO representatives from the Antinori family -- Tom specializes in the domestic acquisitions for the East Coast and Marco represents their formidable Italian portfolio on the East Coast. It's a serious honor that these two charming men from Marchesi Antinori are coming all the way to Cape Cod for the afternoon. We can't wait!
If you want to join us you MUST make a reservation and also be accepted in order to gain access to this
very special private wine seminar.
Reservations will be accepted on a first-come, first-served basis. Once we hear from you we'll reply with an email to let you know if you made the cut off. At this time we'll send you the location and a list of the remarkable wines with the vintages we'll be tasting. If you're unlucky enough to miss the cut off, then please don't worry. There may yet be an opportunity. We're going to start a waiting list just in case there are any last minute cancellations. No promises but we'll do our best.
To make a reservation for the Marchesi Antinori private tasting seminar, simply reply to this email and let us know you'd like to attend, including your name and the name of any guests. The event will be held between 12:00PM-1:30PM on Saturday, November 4. Again, precise details will only be revealed once you have been accepted to the seminar.
The clock is ticking and time starts now.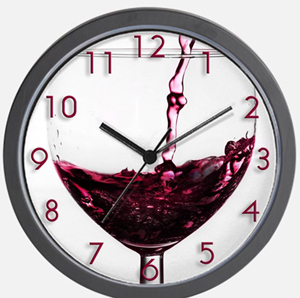 * Wine & Spirit Education Trust Certified *
Town Center Wine & Spirits
Cape Cod's Most Trusted Wine Merchant
Location
4550 State Highway
North Eastham, MA 02651
(Next to the Royal Thai Restaurant in the Town Center Plaza)
Tel: 508 255 3660
Fax: 508 255 6736

Fall Hours

Mon-Thurs: 9 a.m. to 9 p.m.

Fri-Sat: 9 a.m. to 10 p.m.

Sunday: 10 to 6 p.m.

We're open year round.
Closed only on

Thanksgiving and Christmas.