95 Point Côtes du Rhône Under $13
This week Kevin and Leslie gave me quite the difficult challenge, and it's only my third week working here! They asked me to find a high scoring wine at a great price point, which is available in sufficient quantity (to make nearly everyone happy) and, top of the list, blows them away with its qualiy.
I was anticipating they also wanted the bottle to be jewel encrusted... It's a good thing I've been doing this for a long time, otherwise I would be begging Harley for a helping paw. I suspect I'm being tested. What do you think?! I always love a challenge and amazing wine so, here we go. Ultimately, my fate is in your hands.
When I first walked into Town Center Wine & Spirits it became instantly obvious that this was no ordinary wine store. The values and quality overflowing on the shelves are hard to miss, but nothing prepared me for the outstanding offers they unearth on a weekly basis. These guys work really, really hard for you.
So, now it's my turn to impress both my new bosses and you.

What would you say to a 95 point wine from the toughest wine critic on the planet who also doesn't take payment for reviews like some American publications? (Yeah, I said it). The score is from the most trusted and unbiased wine publication in the world that just happens to be stacked with more Masters of Wine than you could fit in our entire store (Decanter Magazine in the UK).
When I first tasted this wine a few words came to mind:
SEAMLESS. CLASSIC. SILKY. REFINED. Bingo.
This wine drinks like it could easily sell for $25.00-$30.00/bottle.
SPOILER ALERT: It's a lot less!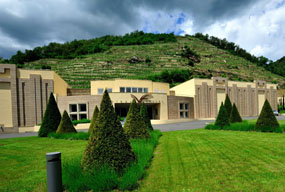 Let's walk on over to France, shall we? The wines of Côtes du Rhône are renowned for offering great quality and value. Vidal-Fleury is one of the oldest producers in the Rhône Valley with Thomas Jefferson being the first wine aficionado to offer them praise. A US President isn't a bad place to start, but the praise hasn't stopped coming since. In all those years, Vidal-Fleury has produced outstanding wines placing their full focus on each being a true representation of the terroir.
Vidal-Fleury's Côtes du Rhône showcases some of the best this estate is capable of without the high price tag normally associated with quality wines from this appellation. You can take our word for it (or even the most respected wine magazine in the world) but we highly recommend trying it for yourself.
This is a limited allocation wine and will sell out fast! Even though we purchased as much as we could
we don't expect this will last long.



Vidal-Fleury Côtes du Rhône 2013

Decanter Magazine: 95 points
Platinum Award: Best In Show
Platinum Award: Best in Category

"Enjoys a deep nose with white pepper, graphite notes and bright red fruits. The palate is powerful and intense with black cherry and dark, muscular berry fruit, crisp acid and some neat, grippy, slightly salted tannins. The finish is long with berries and spice." (Decanter Magazine)

This blend of 65% Grenache, 20% Syrah, 10% Mourvèdre and 5% Carignan undergoes a long traditional maceration. It's a fuller bodied Côtes du Rhône with vibrant acidity that melds well with the natural dense dark fruit to create a seamless balance.

Regular Price $15.99

Town Center Solid Case Special $12.79 SAVE 20%

Reserve your wine now by calling the store, replying to this email, or stop by and grab it while it still lasts.

Please join me this Friday, between 1:00PM-4:00PM, to taste this outstanding gem, Domaine Lafage Miraflors Rosé 2016, and M. Chapoutier 'Belleruche' Côtes du Rhône Blanc 2015 for yourself!

Seriously though, a 95 point wine for under $13? High scores might not be for everyone, but this wine shows itself in the glass as a sensational beauty. This is a very rare opportunity for a steal of a deal. Cheers!

Jonathan Ryder,
Manager



* Wine & Spirit Education Trust Certified *
Town Center Wine & Spirits
Cape Cod's Most Trusted Wine Merchant
Location
4550 State Highway
North Eastham, MA 02651
(Next to the Royal Thai Restaurant in the Town Center Plaza)
Tel: 508 255 3660
Fax: 508 255 6736

Spring Hours

Mon-Sat: 9 a.m. to 9 p.m

Sunday: 10 to 6 p.m.

We're open year round.
Closed only on Memorial Day, Thanksgiving and Christmas.