White Wine Give Away!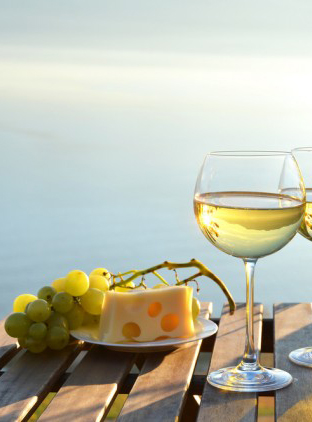 This summer has been all over the place for Cape Cod; however, whether it is gloomy and raining or humid and draining we always look forward to heading home and popping open a nice bottle of wine. Summer days, especially the warmer ones, often cause us to grab a nice chilled down white that is smooth and easy to enjoy. Many may jump to Pinot Grigio to fit the bill of this demand, but we prefer Gavi.
For those who are not familiar with Gavi, it is a wine made in the Province of Alessandria within Piedmont, Italy and is made from the Cortese grape. This wine has been produced for centuries because the grapes are among the easiest to grow in Italy and produce smooth, crisp, and flavorful wines that can be enjoyed on their own or paired with a variety of foods.

When Piedmont is mentioned, often people think about the Barolo region that produces the outstanding red wine of the same name. In addition to the full bodied reds, they also produced some great quality Gavi and today we are looking at one producer for our Gavi summer selection.
Marchesi di Barolo has been a family owned estate for over 200 years and their wines show the depth of those years of experience. That kind of long tradition and dedication to quality is something we love about Italian wines. With five generations of winemakers it goes without saying that they know how to make good wine.
For August (or as long as our supplies last) we are offering an extra special deal with the Marchesi di Barolo Gavi. When you buy half a case (6 bottles), in addition to a 20% off discount, we will give you one bottle of Gavi for free! We know just as well as anyone that Cape Cod summers have a way of causing white wine to disappear quickly and this is an excellent opportunity to get quality wine in quantity.

Marchesi di Barolo Gavi 2014 DOCG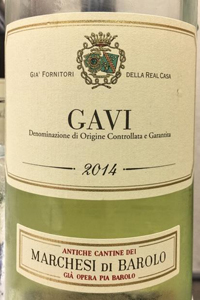 The structure of this wine is characterized by a large concentration minerality due to the vineyards growing within hills whose soil comprises of silt, sand, and clay. After harvesting, the grapes are immediately brought to the winery and pressed. The juice then ferments in low temperature steel tanks to preserve fresh and fragrant aromas and flavors in the wine. The extended time the juice has on the yeast assists the complexity of the wine and allows it to evolve nicely in the glass. Elegant and smooth, this 100% Cortese is a great partner to sip on its own or pair with lighter dishes.
Regular Price $19.99
Special Town Center 6 Bottle Price $95.94 ($15.99/Bottle) SAVE 20%
AND
Get a Bottle Free!
7 Bottles For $95.94!
Join me this Friday, between 1:00-4:00PM, to taste this and other wines. We hope to see you soon!
Cheers,
Jonathan




* Wine & Spirit Education Trust Certified *
Town Center Wine & Spirits
Cape Cod's Most Trusted Wine Merchant
Location
4550 State Highway
North Eastham, MA 02651
(Next to the Royal Thai Restaurant in the Town Center Plaza)
Tel: 508 255 3660
Fax: 508 255 6736

Summer Hours

Mon-Thurs: 9 a.m. to 10 p.m.

Fri-Sat: 9 a.m. to 11 p.m.

Sunday: 10 to 6 p.m.

We're open year round.
Closed only on

Thanksgiving and Christmas.