A Beautiful and Luminous Dessert Wine
Unjustly lost in the shuffle, as so many dessert wines are these days, are the Recioto wines of Soave, the Veneto's answer to Sauternes.

We went to a dinner party and brought a bottle of the Pieropan Recioto di Soave to drink with Italian gorgonzola drizzled with honey for a savory/sweet dessert course. We were nearly all wine professionals at the table. We are pleased to report we absolutely stole the show with this Recioto, which isn't very easy to do with this jaded crowd.
As we sipped this wine the entire table agreed.
This is one of the best dessert wines we have ever tasted
If we have one piece of advice, then it's this. Drink this wine. Even just once. Or you will miss out on something very, very special.
Pieropan Recioto di Soave Le Colombare 2006 (DOCG)
(Veneto, Italy)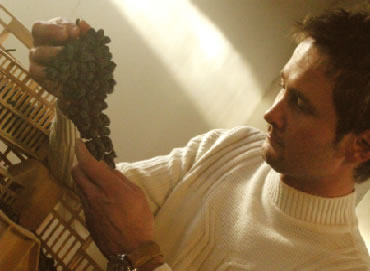 Examining Grapes In the Drying Loft at the Pieropan Winery
Recioto di Soave has long been a classic wine from the Veneto, with its name deriving from "recie" (i.e., the "ears") or top part of the bunch, selected with great care and attention. In fact, the individual bunches of grapes are hand-picked, ensuring only the ripest and healthiest grapes are selected.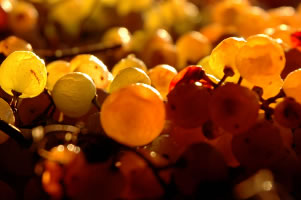 Semi-Dried Garganega Grapes
Swimming against the tide, the Pieropan family have been flag-bearers for the Soave DOC. The family's association with wine stretches back to at least 1890, which is when Leonildo Pieropan established the winery.
The founder's grandson, also called Leonildo, has been called "the noble soul of this appellation." He has proven himself a vinicultural genius, never yielding a single quality inch vis-à-vis the general trend toward anonymous supermarket quaffs.
"Leonildo Pieropan is one of the best small producers in the zone." (Joseph Bastianich and David Lynch, "Vino Italiano: The Regional Wines of Italy")
"Le Colombare" Recioto di Soave has been made for over 100 years
The process used in making Recioto has been passed down from generation to generation and little has changed over time. It's a painstaking and costly vinification process which goes something like this.
After the bunches of grapes are hand-picked and hand-sorted they are placed in small boxes and carried by hand to the drying loft where they are spread on bamboo cane mats to dry naturally for approximately five months from mid-September to the end of February. This allows the sugar and flavor in the grapes to concentrate and botrytis to set in. The grapes are then de-stemmed and crushed and fermented in glass-lined cement tanks.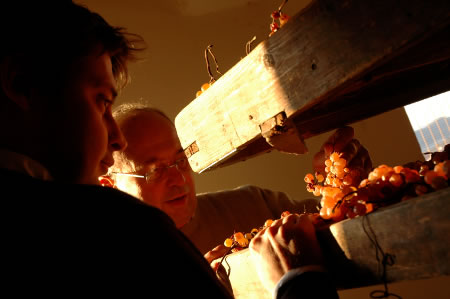 Recioto Drying Mats
This wine holds a place of its own, unlike and beyond any other
This wine is 100% Garganega from a single hillside vineyard in the Soave Classico zone. The vibrant acidity of Garganega helps keep the rich glycerol sweetness of the appassimento process in check, so the wine is sweet without being cloying.
This Recioto has a rich and unctuous texture, complex palate and aromas, and layers of flavor and structure with bright acidity.
Robert Parker's Wine Advocate Adores This Wine!
"The 2006 Recioto di Soave Le Colombare offers up an intriguing array of truffles, apricot jam, nutmeg and flowers in a delicate, medium-bodied style. This moderately sweet white dessert wine is best enjoyed with fruit-based desserts or fresh cheeses. Anticipated maturity: 2009-2016.

Pieropan has long been a leader in quality in Soave, but these new releases seem to take things to another level." (Wine Advocate)
Wine Advocate: 92 points
This is a wonderful dessert wine which is perfect with almond-based dishes, simple pastries, fruit tarts, dried fruit, and rich, blue cheeses. While our personal preference is for gorgonzola, a fruit tart from PB Boulangerie Bistro in Wellfleet would do quite nicely!
And, yes, this kind of wine comes with a price tag commensurate with its labor-intensive production. But, trust us, it's more than worth it. This wine is haunting. It's time to treat yourself. Spring is on the way!
$57.99/500 ml bottle or $46.39/500 ml bottle in a mixed case of wine.

* Wine & Spirit Education Trust Certified *