Subject: New Release Watch: The Excitement Unfolds
Chateau de Chamirey Mercurey 2008
(Burgundy, France)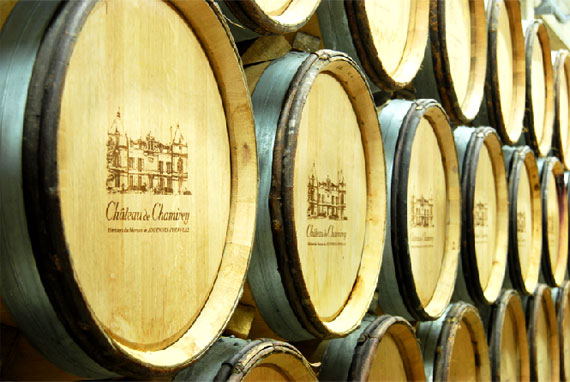 Oak Barrels, Chateau de Chamirey, Burgundy]
Chateau de Chamirey is located in the quiet town of Mercurey, which is the most important village in the Côte Chalonnaise district of Burgundy. Its reds (always Pinot Noir) tend to be deeper in color, fuller in body, and half as expensive as those of the holy grails of Gevrey-Chambertin and Vosne-Romanée.
Jancis Robinson, Master of Wine, affirms Chateau de Chamirey is one of Mercurey's lead producers in her book "The Oxford Companion to Wine." We served this lovely wine with pan-seared salmon the other night. It was sublime.

The color of this Pinot Noir is striking.
It's a beautiful ruby color, very bright, and clear. Almost jewel like. There's no mistaking where this wine originates.
The elegant nose has cherry and raspberry aromas with slight woody, smoked and licorice notes. In the mouth are notes of black currant and cherry. And, as with all good Burgundy, the it reveals ripe, elegant and velvety tannins, beautiful freshness, balance, and suppleness.
"Shows some oak influence here, with vanilla shading the cherry and raspberry flavors. This is silky overall, with moderate tannins for support and a good finish. 200 cases imported." (Wine Spectator)
Wine Spectator: 88 points
"A bright, fresh wine, its red currant and fresh plum acidity an important element. It has dry tannins at the core, giving a firm structure and hints of wood, with sweeter fruit coming through to finish." (Wine Enthusiast)
Wine Enthusiast: 88 points
$38.99/bottle, $374.30/12 pack case ($31.19/bottle) or only $31.19/bottle in a mixed case of wine.
Azienda Agricola Tintero Grangia Vina Bianco Seco NV
(Piemonte, Italy)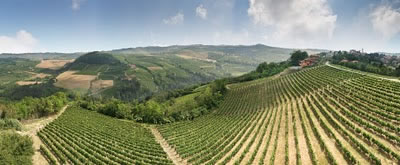 The Vineyards and Hilltop Village of Mango, Piemonte, Taken from Azienda Agricola Tintero
Azienda Agricola Elvio Tintero is located on the steep and spectacular hills of Mango, a small village of ancient historical and cultural traditions situated about 12 kilometers southeast of Barbaresco. The family's winemaking philosophy is based on the use of traditional and organic agricultural methods.
This white wine is a real surprise, but given it's imported by Kermit Lynch it makes a bit more sense. This wine is 100% Favorita, which is a Piedmontese clone of Vermentino. The wine is bone dry, frizzante (slightly sparkling), and a perfect pairing for oysters, shrimp, and mussels.
Clean and clear with tiny bubbles, it seems super light in appearance. The nose offers complex yet discreet aromas of white and yellow fruits like peach, citrus and apricot intermingled with blossom and other floral notes. It has a lingering dry, zesty finish. A most unusual wine which is a very serious bargain for its humble price.
$9.99/bottle, $95.90/12 pack case ($7.99/bottle), or just $7.99/bottle in a mixed case of wine.
Pena Das Donas Almalarga Godello 2008
(Ribera Sacra, Spain)

The 2008 Almalarga is 100% Godello sourced from 80- to 100-year-old vines and aged in tank on its lees. It has wet stone, white peach, and spring flowers on the palate and we can honestly say it displays a Chablis-like personality but with an extra dimension of fruit. A vibrant, nervy wine for those seeking the path less traveled. Great with oysters too.

"There's something comforting about this wine, as if entering the eye of a coastal storm where power and intensity surround you in a calm, almost perfect equilibrium. It's not an easy wine to describe, though it generated more descriptors than most -- mountain berries, wild strawberries, mountain flowers, acacia, honeycomb, fennel seed, freshly turned earth. Personally, I didn't want to leave the glass once I tasted it. The wine has a life of its own and seems to welcome you in." (Wine & Spirits Magazine)
Wine & Spirits Magazine: 95 points
$22.99/bottle, $220.70/12 pack case ($18.39/bottle) or only $18.39/bottle in a mixed case of wine.
Ceuso Scurati Rosso 2009
(Sicily, Italy)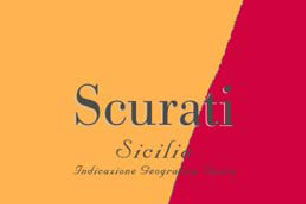 Several of you have recently requested more Sicilian wine offerings. We've been listening, researching, and tasting, and we think we've found a winner here.

"The estate's 2009 Scurati Rosso (Nero d'Avola) emerges from the glass with layers of perfumed, plump fruit, roses, chocolate and spices. It is one of the most delicious wines readers will come across under $20." (Wine Advocate)
Wine Advocate: 88 points
$15.99/bottle, $153.50/12 pack case ($12.79/bottle), or just $12.79/bottle in a mixed case of wine.
Ramey Claret 2007
(Napa Valley, CA)
The folks at Ramey keep knocking out incredible wines. Claret or Bordeaux blends are hugely popular right now. If you like a Bordeaux blend which is sophisticated and more Old World in style, this is a fantastic choice.

"Bordeaux-like in its subtlety and restraint, yet rich, flavorful, full-bodied and expansive, with a mix of cedar, currant, cigar box, tar and mineral. Firm and focused, its elegance and refinement are impressive." (Wine Spectator)
Wine Spectator: 93 points
"Ramey's easiest to drink and appreciate wine, is a seductive blend of primarily Cabernet Sauvignon with some Merlot, Cabernet Franc and Malbec. Its dense ruby/purple hue is followed by a velvety textured, plush, round, generous wine with lots of texture and fruit. This high quality effort should be drunk over the next decade." (Wine Advocate)
Wine Advocate: 91 points
International Wine Cellar: 91 points
$39.99/bottle, $191.95/6 pack case ($31.99/bottle) or just $31.99/bottle in a mixed case of wine.
Ramey Chardonnay Russian River 2008
(Napa Valley, CA)

"Pure, ripe and vibrant, with spicy pear, melon, citrus and green apple notes that are fresh and lively, ending with zesty acidity. Drink now through 2015. 9,200 cases made." (Wine Spectator)
Wine Spectator: 90 points
"Precise, mineral-driven aromas of pear, spicecake, iodine and wet concrete, along with a sexy floral aspect. At once tactile and fine-grained, with subtle smokiness giving depth to the flavors of Meyer lemon, minerals and candied ginger. Tightens up toward the back, finishing quite suave, with strong lift and cut to its ginger-laced orchard fruit flavors." (Stephen Tanzer's International Wine Cellar)
International Wine Cellar: 91 points
$39.99/bottle, $191.95/6 pack case ($31.99/bottle) or just $31.99/bottle in a mixed case of wine.
All of these wines are currently in stock. Please reply to this email or call the store (508-255-3660) to reserve your wines. Both the Ramey Claret and Chardonnay are allocated wines and, as such, are available in limited supply.
P.S. As a special bonus, we are offering an introductory special to our wine club on these new Ramey wines. Purchase 1 bottle each of the Claret and the Chardonnay and receive the maximum case discount pricing on each bottle. $63.98 for both wines (a savings of $16.00).

* Wine & Spirit Education Trust Certified *