This Week's Top Deal: The Best Red You May Ever Drink for Under $12
Domaine Sainte- Eugénie Le Clos Millesime 2009 (Languedoc, France)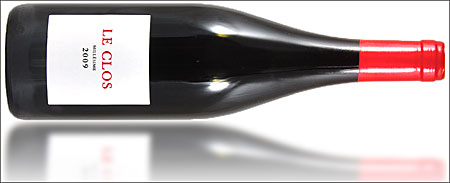 This week's top deal is rather exciting. In fact, it may very well be the best red wine you'll ever drink for under $12.
We cannot think of a better "house red" for everyday drinking and serving to company. In fact, we drink this wine at home when we fire up the Big Green Egg on the deck. One has to be a little careful though. Le Clos is such a great value it has been known to cast a spell which induces the inclination to over-serve!
Le Clos + summer barbeque = heaven.
Le Clos is the latest addition to Domaine Sainte Eugénie. The winery is positioned within the district of Fontfroide, the sweet spot of Corbières, with an 800 year history of viticulture. Sainte Eugénie is located within the foothills of the stunning Pyrénées along the Mediterranean coast.
Kevin highly recommends Le Clos, where he feels Burgundian know-how meets Languedoc terroir.
In the glass, the color of this wine is pure crushed raspberries. The nose of Le Clos is scented with incense, spices, anise, red and black berries, the suggestion of autumn woods, and tobacco. It shows wonderful balance with elegant structure, bright plush fruit, and fine tannins.
The personality of this delightful little red blend is half Bordeaux and half Southern Rhone. Specifically, it is 45% Merlot, 29% Grenache, 20% Carignan, and 15% Cabernet Sauvignon.
The palate boasts lively red and black fruits with exotic, spicy highlights. Silky tannins support a finely structured palate, softened with a slight touch of vanilla oak.
We met the winemaker, Herve Gantier, last month at a wine tasting. This guy can really make amazing wine which should sell for a much higher price.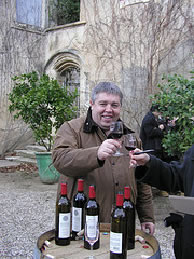 Herve Gantier, Winemaker
Let's be honest. It isn't very easy to find a smooth, sultry, easy drinking, luscious wine for less than $12 per bottle. To find all that WITHOUT mass production and WITH personality and terroir, well, let's just say you've hit a vinous jackpot. We anticipate having this wine in stock for approximately one month before inventory runs out.
Domaine Sainte Eugénie Le Clos effortlessly melts in your mouth. Pair it with roast rack of lamb, barbecued beef, or pork chops. Or serve it on its own as an aperitif on the deck. This is a great wine for company. If you keep the price tag to yourself we're fairly certain your company will assume this is a much higher priced bottle of wine. And we won't tell!
Domaine Sainte- Eugénie Le Clos: $11.99/bottle or $115.10/12 pack case ($9.59/bottle) or just $9.59/bottle in a mixed case of wine.
P.S.
We're so confident you'll love this wine we're offering a special sale for just 24 hours. Purchase a solid case of Le Clos between noon on Friday and noon on Saturday and receive a very special 25% discount ($107.91/12 pack case or just $8.99/bottle!!!). At less than $9 a bottle, our advice is to purchase as many as you can afford before it vanishes.
P.P.S.
We have a very special guest conducting our Try Before Your Buy wine tasting this Friday from 4-7 pm. Please join Liz Farley, Northeast Sales Manager for one of the best wine importers in the United States, Kermit Lynch Wine Merchant.


* Wine & Spirit Education Trust Certified *