Pure lush fun. Decadence, really.
Today we want to introduce you to one of the most fascinating winemakers we've ever met, Sean Larkin. Sean is considered to be a luminary and something of a rock star on Nantucket, where he attends the Nantucket Wine Festival every year, selling out his very limited production wines.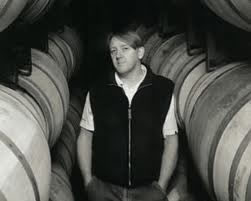 Sean Larkin, Winemaker
Since the first vintage in 1999, Sean Larkin has been on a meteoric rise. Crafting serious wines culled from a short list of Napa Valley vineyards, he has managed to quickly capture the eye of critics and connoisseurs alike.
"Sean Larkin's main project is producing these two brilliant wines [Cabernet Franc and Cabernet Sauvignon] that seem to score highly no matter what the vintage." -- Robert Parker, Wine Advocate
When we spoke to Sean at a tasting two months ago it wasn't just his Scottish accent which dazzled us. He was so fascinating we couldn't walk away. We must have spent 30 minutes tasting only two wines and talking with him in great detail about how they were made. We walked away spellbound. And in love with his wines.
Larkin is considered to be a true bon vivant in local Napa wine circles and even refers to his Cabernet Franc as "the poor man's Chateau Cheval Blanc," in a most respectful reference to the great Bordeaux chateau. In many ways, Sean Larkin is a modern day pioneer in the truest traditions of Napa Valley. He arrived with little more than his energy and dedication and has literally made something really special from the grapes.
A Lusty Brand of Brawny Reds
You won't see Sean Larkin's wines around very much in your travels (with the possible exception of Nantucket in the summer). They are very tiny production, ultra boutique wines. However, if you do find them, we suggest you snap them up!
Larkin Cabernet Franc 2007 (Napa Valley, CA)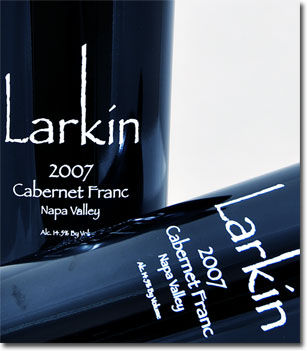 "One of the Napa producers who makes outstanding Cabernet Franc is Sean Larkin." (Robert Parker, Wine Advocate)
Some might think this a crime, but we recently drank Sean's Cabernet Franc with hand-ground hamburgers and home-cooked French fries with some wine insiders. It seemed too delicious to be true. While the pairing was somewhat unconventional (and even diabolical to some), it definitely worked brilliantly. It would also pair wonderfully (and more classically) with beef tenderloin or venison.
Sean Larkin's Cabernet Franc is legendary
On a personal level, we don't tend to be huge fans of big Napa Valley reds. Even the expensive ones. Yet, Sean's Cabernet Franc was revelatory. We took as many cases as the wholesaler would give us, which really wasn't very much at all. Therefore, a word of caution. This wine is at high risk of selling out quickly.
We do understand a Cabernet Franc may seem like a risky suggestion on our part. After all, how many people have purchased a Cabernet Franc on its own (it's usually a component of Bordeaux blends)? All we can tell you is we enthusiastically endorse this wine. It not only meets, but exceeds our standards.
Larkin Cabernet Franc is an iconic, cutting edge, under-the-radar, blockbuster red.
You should definitely have some.
"Talented winemaker Sean Larkin has produced an outstanding 2007 Cabernet Franc filled with richness as well as finesse. Its dense ruby/purple color is followed by notes of white chocolate, raspberries, blueberries, and spice. Medium to full-bodied with an ethereal lightness as well as intense flavors (characteristics of top-flight Cabernet Francs), it should be consumed over the next 10-12 years." (Robert Parker, Wine Advocate)
Wine Advocate: 90 points
$54.99/bottle or $527.90/12 pack case ($43.99/bottle) or just $43.99/bottle in a mixed case of wine. Very limited availability.
Pure lush fun. Decadence, really.
Larkin Cabernet Sauvignon 2007 (Napa Valley, CA)
And now onto the classic Cabernet Sauvignon.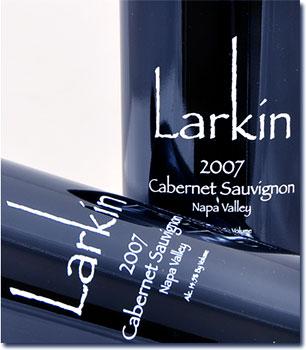 "The 2007 Cabernet Sauvignon boasts an opaque purple color along with a big, projected nose of creme de cassis, smoked meats, licorice, and graphite. Layered, opulent, and full-bodied with the vintage's exuberance, flamboyance, purity, and sweet tannins, it has plenty of up-front appeal, but will evolve for 15+ years." (Robert Parker, Wine Advocate)
Wine Advocate: 93 points
$54.99/bottle or $527.90/12 pack case ($43.99/bottle) or just $43.99/bottle in a mixed case of wine. Very limited production. In our opinion, it needs a little time in bottle. However, we're not sure you'll be able to wait for this beauty. It's a temptress.
P.S.
Purchase one bottle of each wine and receive 20% off both wines if you mention this email and purchase them within the next week. This is a great way to try two extraordinary bottles of wine at a fantastic price without having to invest in a case.
P.P.S.
As a special bonus for our wine club members, we are offering a new service to make your lives easier in the summer and avoid the inevitably long lines. Starting today, you can call us with any bottle or case order, pay by phone with credit card, and we'll have your order ready for pick up whenever you like. No waiting, no lines, no hassle, just in-and-out fast service to get you on your way during the summer crush.
P.P.P.S.
Our weekend wine tastings are in full swing. Join us on Fridays (4-7 pm) and Saturdays (3-6 pm) to taste some fantastic wines in a fun atmosphere with cool people.

* Wine & Spirit Education Trust Certified *