The Languedoc-Roussillon and Southern Rhône appellations in Southern France are filled with surprises! All of today's offerings are available for less than $15/bottle after case discount, which makes them absolutely perfect for holiday company.

Chateau Saint-Baulery Saint-Chinian 2009 (Languedoc-Roussillon, France)

A delicious blend of 40% Carignan, 30% Syrah, and 30% Grenache produced from 30+ year old vines. This red has been a favorite of local chefs and sommeliers simply because it has quality, character, and value. A nice wine to serve friends and family.
"A bright, zesty red, showing zesty purity to the red plum, blackberry and licorice flavors. The spicy finish features notes of milk chocolate. 3,500 cases made." (Wine Spectator)
Wine Spectator: 88 points
"From the co-op in Cebazan, this is juicy with dark raspberry fruit and firm with tannin and stony minerality. Pour it for country bread spread thickly with duck." (Wine & Spirits Magazine)
Wine & Spirits Magazine: 87 points, Best Buy
$12.99/bottle or $124.70/12 pack case ($10.39/bottle) or just $10.39/bottle in a mixed case of wine.

L'Hortus Pic Saint Loup Classique 2007 (Languedoc-Roussillon, France)

L'Hortus is one of the most important properties in the fascinating region of Pic Saint Loup. An excellent wine to pair with roasted meats or a cheese course.
"The L'Hortus red 2007 Coteaux du Languedoc Pic Saint-Loup Bergerie Classique is – as usual for this cuvee – around 2:1 tank vinified Syrah-Grenache, with roughly 10% barrel-aged Mourvedre. Beautifully scented with ripe black fruits, marjoram, and rosemary, this offers an invigorating sense of attack and a refreshing palate of tart fresh black raspberry and cassis, underlain by grilled meats. There is a lovely, muscular leanness here, and this should perform admirably at table for several years." (Wine Advocate)


Pic Saint Loup, France
$13.99/bottle or $134.30/12 pack case ($11.19/bottle) or just $11.19/bottle in a mixed case of wine.

Chateau de Paraza Minervois 2009 (Languedoc-Roussillon, France)

This wine is a red hot value!
"Ripe and dense, featuring well-spiced flavors of black currant and damson plum. Milk chocolate notes mark the finish. Drink now. 3,000 cases imported.." (Wine Spectator)
Wine Spectator: 86 points
$9.99/bottle or $95.90/12 pack case ($7.99/bottle) or just $7.99/bottle in a mixed case of wine.

Laurence Féraud Plume Bleue 2009 (Languedoc-Roussillon, France)

A long-time customer favorite returned to the store this week. This tasty wine is produced by a Chateauneuf du Pape powerhouse who just happens to be a living legend, Laurence Féraud

.
Like Plan Pegau, Plume Bleue is a negociant wine created by Laurence Féraud of Domaine du Pegau. An uncomplicated, unoaked 50/50 blend of Grenache and Syrah, this is her (delicious!) take on a classic Vin de Pays d'Oc. This charming, medium-bodied wine offers vibrant red fruit character, with hints of pepper and toasted herbs.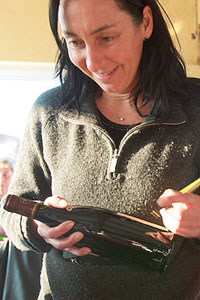 Laurence Feraud in Chateauneuf du Pape, 2009
$13.99/bottle or $134.30/12 pack case ($11.19/bottle) or just $11.19/bottle in a mixed case of wine.

Clos Chanteduc C

ô

tes du Rh

ô

ne 2009

(Southern

Rh

ô

ne

, France)
We opened this bottle a few nights ago and we absolutely adored it.
Clos Chanteduc is a hilltop property purchased by Patricia & Walter Wells in 1984. Patricia Wells – journalist, author, and cooking teacher – is an American who has lived in Paris since 1980. She is the author of 11 books, the only woman and only foreigner to serve as restaurant critic of the French newsweekly, L'Express and since 1980 she has been food critic for the International Herald Tribune. Previously, she was a writer and editor for The Washington Post and The New York Times.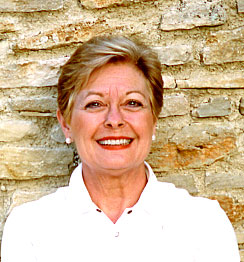 Patricia Wells
"The 2009, a blend of 80% Grenache and 20% Syrah aged in foudre/tank, possesses abundant amounts of dark black cherry notes intermixed with hints of wood smoke and garrigue. This classic, soft, round, delicious beauty is ideal for drinking over the next 3-4 years.
These cuvees are made from a 7.5-acre vineyard outside Vaison La Romaine owned by the famous restaurant/food critic, Patricia Wells, whose winemaker is the well-known Yves Gras of Domaine Santa Duc in Gigondas." (Wine Advocate)
$17.99/bottle or $172.70/12 pack case ($14.39/bottle) or just $14.39/bottle in a mixed case of wine.

Mas Carlot Les Enfants Terribles 2009
(Costières de Nîmes, France)

Mas Carlot is situated in the south of the Rhône Valley, extending across 76 hectares of pebbly land southeast of Nîmes. The appellation of Costières de Nîmes used to be considered part of eastern Languedoc but the climate, soil, topography and wine are far closer to those just over the river in the Southern Côtes du Rhône. It is now a region very much on the up and is widely recognized as a great source of excellent value wine.
If only all wine at this price level could be as good as this.
"The 2009 Costieres de Nimes Les Enfants Terribles is superb. Its dense ruby/purple color is accompanied by notes of blackberries, blueberries, camphor, licorice and sauteed mushrooms. The wine exhibits good density and richness as well as a heady finish. It should drink nicely for 5-6 years. This is one of the best run estates in Costieres de Nimes." (Robert Parker, Wine Advocate)
$14.99/bottle or $143.90/12 pack case ($11.99/bottle) or just $11.99/bottle in a mixed case of wine.

Happy holidays!!!
P.S.
We offer free wine gift bags and bows to make your holiday gift giving easier. Gift certificates are also available in any amount.
P.P.S.
We will be closed on Sunday, December 25 according to state law. We were just informed this week we will be allowed to open on Monday, December 26 from 9 am – 9 pm.


* Wine & Spirit Education Trust Certified *
Town Center Wine & Spirits
Cape Cod's Most Trusted Wine Merchant