What would you say if we told you we discovered a delicious Italian red wine which formerly sold for $25/bottle which we can now offer to you for less than $13?
Fattoria Le Pupille Morellino di Scansano 2007
(Morellino di Scansano, Tuscany, Italy)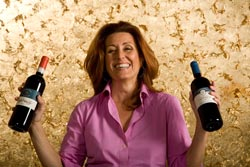 Elisabetta Geppetti, Winemake
r
Elisabetta Geppetti is a landmark and one of the first female winemakers in the Maremma region of Tuscany. In etymological terms, the word Maremma derives from the Latin mare, or sea.
Until ten years ago, Tuscany was thought of only as Chianti, but now it's the Maremma everyone is talking about.
Morellino is the local term for the Sangiovese grape in this coastal part of Tuscany. It's warmer here than further inland, so the resulting wines tend to be fuller and richer than inland Tuscany.

Le Pupille is bright with beaming acidity and red fruit flavors. The tannins are simple with overlapping acid, creating a balanced easy-drinker just begging for a pizza.

This is another excellent Saturday night wine at a Tuesday night wine price. Enjoy!
"The 2007 Morellino di Scansano is a plump, juicy offering bursting with generous dark red fruit. The wine reveals lovely balance and a long, poised finish. Drink this pretty Morellino over the next year or so. This is another strong set of wines from proprietor Elisabetta Geppetti." (Wine Advocate)
"A round, juicy Morellino, with lots of blackberry, black cherry and hints of fresh herbs and chocolate. Has a plump medium body, with good fruit and mineral on the finish." (Wine Spectator)
Wine Spectator: 88 points
$12.99/bottle or $124.70/12 pack case ($10.39/bottle) or just $10.39/bottle in a mixed case of wine