Chateau Puech-Haut Prestige Rose 2010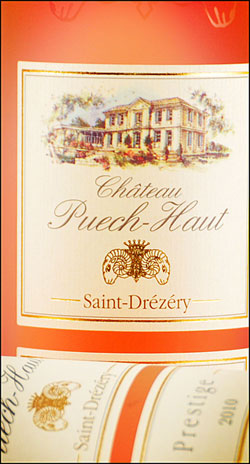 Meet our new summer love!
Chateau Puech-Haut is on a roll. Their Prestige Rouge recently received 93 points from Robert Parker's Wine Advocate (it's stacked in the front of the store) and they have now released a limited edition rose. We are one of very few stores in the state to acquire this remarkable wine.
Why us? We were invited, along with a handful of elite buyers from across the state, to attend a private seminar with the winemaker hosted by Eric Solomon a few months ago at Barbara Lynch's new restaurant Menton in Boston.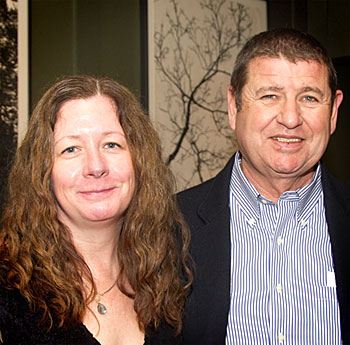 Leslie with Gerard Bru, winemaker
Our conclusion?
This may be the best rose you will ever taste for the money.
How good, you might ask? After receiving our initial order, we then doubled it. Yup. You heard right.
Some people believe rose, because it's pink, is similar to White Zinfandel. It isn't. Not even close. This isn't a sweet wine, nor is it simplistic. The only thing this rose and a White Zinfandel have in common is a somewhat similar color spectrum. However, if White Zinfandel is a rather shocking dark pink, this wine is the color of a pale cherry blossom on a warm spring afternoon.
Puech-Haut is a beautiful, elegant, lofty, dry wine reaching the pinnacle of its category for under $20.
Truth be told, this wine tastes very much like one of the most coveted roses in the world, and a favorite of wine professionals everywhere, Domaine Tempier Bandol Rose (a small amount of 2010 will be arriving early next week).
Bring out a bottle of Tempier at a dinner party and even the most seasoned wine professional will be impressed. Take out a bottle of Puech-Haut and have everyone taste it, tell them the price, and you will definitely hear some swooning over your savvy wine buying (not to mention the wine).
Think of this wine as Tempier for half the price.
Puech-Haut rose has aromas of rainier cherries and nectarine skin, not to mention mouth-watering crisp acidity with a juicy, clean and punchy, nervous finish. It has balanced fruit, alcohol and weight so you won't feel guilty when drinking cases at a time.
Tall about naked expression of Coteaux du Langeudoc.
This wine was made for summer.
No expense was spared to make this wine. It has a cool frosted bottle, a beautiful label, and a chic glass stopper (instead of a cork). We absolutely love it.
This wine just arrived a few days ago and you honestly better get some before we drink it all ourselves.
P.S.
We will be pouring this wine exclusively at our free wine tasting on Saturday, June 4 from 3-6 pm. Stop by for a taste and see what the buzz is all about!

* Wine & Spirit Education Trust Certified *