Brokenwood Semillon 2009 (Hunter Valley, Australia)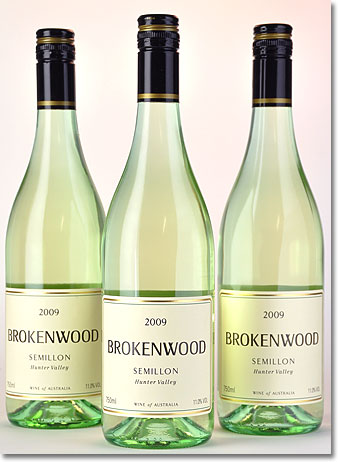 In an age of big company buy-outs, increasing consolidation, and mass production, we offer you today an Australian winemaker who retains their belief in artisanal winemaking. Respecting the land with minimal intervention, Brokenwood Semillon stays true to the soil from which it comes. It's their intuitive understanding and desire to produce the best from each vintage which makes them an Australian benchmark.
This week only -- special blow out sale!!!
"A delicate yet positive flowery bouquet hints at what is to come on the vivid mid-palate, with citrus to the fore, and background touches of stone fruits; the zesty acidity cleanses the finish and guarantees a long life if you wish to cellar it." (James Halliday's Australian Wine Companion)
James Halliday's Top 100 Wines, 95 points
"A perennial bargain, and on fine form in 2009, this quaffer has enough charm to leave any Sauvignon addict begging for another glass. With pristine lemon fruit, nuances of nutmeg and a delightfully crisp finish, it's got it all going for it." (Wine 100 – Australia's Leading Independent Wine Guide)
"The clear, platinum-like color sets this up as a classic, unwooded Hunter Semillon. Like the color, its flavors are nearly invisible, ghosting nutty wheat and green apple buzzing with malic acidity. With air and each subsequent taste, the flavors grow increasingly long. The lovely brisk balance predicts this will age with grace; for drinking 10 to 12 years out with grilled prawns or langoustines." (Wine & Spirits Magazine)
Wine & Spirits Magazine: 92 points
Wine & Spirits Magazine: Top 100 Wineries of the Year
"Pungent lime, capsicum, minerals and fresh herbs on the nose. Then densely packed and light on its feet, with a refreshing quality to its lime zest, lemongrass and fresh herb flavors. Impressively energetic and tangy on the back end, which is concentrated, dry and uncompromising. This racy, distinctive wine could easily be snuck into a blind tasting of dry rieslings." (Stephen Tanzer's International Wine Cellar)
International Wine Cellar: 91 points
"The 2009 Hunter Valley Semillon provides a bit more weight and alcohol (11%) than the 2008, with intense aromas of fresh pears, white peach, lemongrass, and jasmine. There is really nice tension, a tad youthful but approachable now with lots of citrus and stone fruit flavors, a yeasty/honeyed character lending balance to the acid, and a silken texture as well as a long finish. Drink now through 2018." (Wine Advocate)
For a white wine to be capable of aging to this degree you know it has to have excellent structure, balance, and acidity. And the alcohol is very low, very much like a high quality German Riesling. What we like about this wine is that it's unusual, distinctive, elegant, exciting, and unknown to most.
Brokenwood Semillon is perfect with seafood or Asian fare, and especially delicious with freshly shucked oysters.
Regularly $19.99/bottle, on sale this week for only $14.99/bottle (a 25% savings!) or $179.91/12 pack case.