We Found the Missing Juice!

Today's offering is rather cutting edge and off the radar unless you are a movie star in Hollywood, or a real wine insider.

There is so much we cannot tell you about these wines.

We simply aren't allowed.

What we can tell you is the juice for these custom crushed wines was sourced from some very upscale wineries. Upscale as in $200/bottle. If you haven't been exposed to the underbelly of the wine world, you might be surprised to learn high end wineries sell off their "extra" grapes or juice to keep their annual production small, elite, and expensive. Essentially, they sell off some of their wine in order to protect their luxury prices.

It happens all the time. And these elite wineries never want you to know what happens to their missing juice. That's part of the deal. It's a secret.

We Found the Missing Juice!!!

Banshee Pinot Noir and Cabernet Sauvignon

So, don't expect press on these wines. Don't even expect a foil capsule over the top of the bottle. The people who produced these wines are just too cool and edgy for that. There's even a bit of a scandal associated with these wines which has been all the buzz in the wine world, but we can't tell you about that either (after all, it really doesn't matter unless you are a tried and true wine geek).

So forget all that.

What you do need to know is that Banshee Wines is not a normal wine company.

Banshee Wines is literally a handful of important wine industry insiders who went rogue.

They left the comfort of their cushy and very influential wine positions with the goal of producing benchmark wines without cult wine prices. Not a small goal, mind you, but they have the connections required to pull this off and they succeeded. As a result, you'll find Banshee wines on some of the best restaurant lists in the world, not to mention stocked up in the cellars of the wine cognoscenti.

So don't ask questions. All that matters is what's in the bottle. Trust us on this one.

Banshee Pinot Noir 2009 (Sonoma Coast, CA)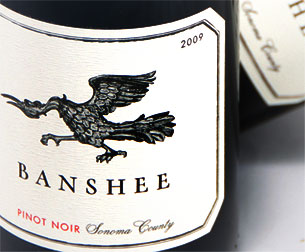 Oozing elegance, this beauty does everything a top-notch Pinot Noir should do…and more. This wine is a blend of two high end vineyards, one in the Petaluma Wind Gap (Sonoma Coast) and one from the Russian River Valley.
A complex and elegant wine, this Pinot Noir has dark cherry fruit and a sweet earthy minerality held together with bright acidity and long, ripe, silky tannins. As Pinot Noirs go, this one is sexy and sultry. It is rapidly becoming a cult favorite with wine insiders and Hollywood elite.
This is a real showstopper easily drinking like three times its price.
We should be able to keep stock on this wine throughout the summer, but not much longer. We advise stocking up on this wine while you can. This wine has become our personal Pinot Noir of choice at home.
$24.99/bottle or $239.90/12 pack case ($19.99/bottle) or $19.99/bottle in a mixed case of wine. This is a very serious and impressive bottle of wine for under $20.
Banshee Cabernet Sauvignon 2008 (Napa Valley, CA)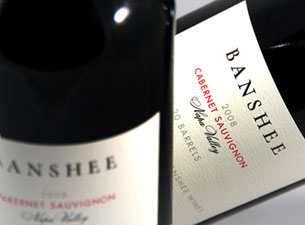 This Cabernet brings to the table both power and grace
It deftly balances rich espresso and black currants with alluring violet perfume. Loads of ripe, red fruit, crushed stone, and exotic spices complete this complex and expressive Cabernet Sauvignon which has superb concentration and a lengthy finish. Rarely does one find a wine which so effortlessly and seamlessly combines both the masculine and feminine.
This wine is limited in production and we don't anticipate it being available for more than approximately two months. We recommend you purchase a bottle now and if you love it splurge for a case before it's vanished.
$39.99/bottle or $383.90/12 pack case ($31.99/bottle) or just $31.99/bottle in a mixed case of wine.
P.S.
We have a great offer for you today. Purchase one bottle of each Banshee wine (Pinot Noir and Cabernet Sauvignon) and receive the maximum case discount of 20% off both wines. We're pretty sure you'll be back for more!

* Wine & Spirit Education Trust Certified *