Sometimes a deal comes along which seems too good to be true. Consider that time to be now.
A word of explanation first.
A few days ago a surprising email appeared in our in-box. It was from a fine wine portfolio manager at a wholesaler with whom we work closely. He purchased too much of an elite wine and he wanted to know if we could take it off his hands. In exchange for the favor we were offered an outrageous and unheard of price.
Naturally, we said yes. That is, after a little more wheeling and dealing.
This is one of the best deals we've ever offered.
Instead of pocketing the outrageous savings and selling it at full price (a naughty practice which is too common with other retailers in the area), we're passing the savings directly on to you. That's just one of the reasons why we're known as Cape Cod's Most Trusted Wine Merchant. We genuinely work like demons every single week to offer you great deals on incredible wines at every price point.
We're thrilled to offer you the opportunity to drink one of Spain's greatest and most expensive appellations at a fraction of its normal price.
When we say a fraction of its normal price, we're not kidding. We can offer you the potential to save $15-21 on each and every bottle (or, in other words, 33-46% discount off retail price).
And now for the goods.
Today's wine is from the Priorat in Spain, one of only two DOC (Denominación de Origen Calificada) appellations in Spain. The only other top-tiered appellation is Rioja.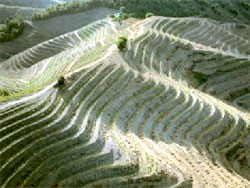 Steep Slopes in the Priorat, Spain
The Priorat is a small, isolated area with some of the most expensive, elite, world-class wines in all of Spain. Many factors contribute to the stellar quality of Priorat wines. Add together very old vines, exceptionally low yields, and wildly steep terraces which cannot support mechanization and therefore require laborious hand plowing and picking, with a dash of cutting-edge, rock star winemakers and you can start to understand the intensity and magic of the Priorat.
The winemaker, Marc Ripoll, plows his very steep vineyard by hand himself. Why would he expend this extraordinary effort? Simply because a machine would tumble right off the cliffside! Plus he's tremendously passionate about his grapes. Makes you think twice about the price, doesn't it? We've been told the slopes are so steep you actually have to use your hands to climb up the vineyards. Thank heavens we only have to drink the wine and not make it!
The soil in the Priorat is not only unique, it's internationally famous. Known locally as llicorella, it's a mixture of slate and quartz. We've handled llicorella several times and it feels more like rock than soil. The odd thing about this poor, stony soil is that it produces some of the best wines in the world.

llicorella
Superstar cult wineries such as Clos Mogador, Clos Erasmus, and Scala Dei call the Priorat home. Our winery today is adjacent to the greatly esteemed Clos Erasmus, which is just yards away. That's a pretty impressive zip code!
And now, a special wine with a serious personality. Yours for as low as $23.99/bottle (regularly $45/bottle).
Cellers Ripoll Closa Batllet 2007 (Gratallops, Priorat, Spain)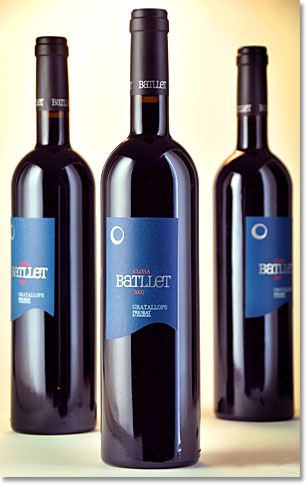 Cellers Ripoll was established in 2000 when Marc Ripoll, a young man in his early twenties, returned to the Priorat to restore his family's winery in the village of Gratallops. Marc's wines are made using a combination of traditional and modern techniques in order to express the very unique features of this special terrain.
Imported by Eric Solomon Selections.
"A blend of 65% Carinena, 22% Garnacha, and the balance Merlot and Syrah. Most of the vines are over 90 years of age and the wine spent 15 months in 75% new French and American oak. Purple black in color, it gives up a brooding bouquet of mineral, plum, lavender, and exotic spices. Made in a racy style, on the palate it reveals plenty of succulent black fruit, some elegance, and very good volume. This lengthy effort is an excellent value." (Wine Advocate)
This is a 100% current vintage wine with a drinking window of 2011-2023 (as quoted by Robert Parker's Wine Advocate).
Retail price: $45.00/bottle.
On sale now for only $29.99/bottle (over 33% savings).
Special full case sale:
$287.90/12 pack case ($23.99/bottle)
OVER 46% SAVINGS ($21/bottle SAVINGS!!!)
P.S.
Drinking a wine of this stature from the Priorat for under $24/bottle may possibly be a once-in-a-lifetime opportunity. We're always working on special deals to offer you year round, but this one is rather unusual. Sale limited to quantities on hand.
P.P.S.
When we first encountered this wine it was a holiday gift to us from a wine rep. We drank it a few days after Christmas on our wedding anniversary. It was unusual and big and bursting with blueberry and dark fruit flavors. It kept changing in the glass like a chameleon as it opened up. Absolutely delightful. We always associate this wine with the holidays. It would make an excellent gift for friends or family who love big reds. Or if you want to impress your wine geek friends.
Enjoy!

* Wine & Spirit Education Trust Certified *
Town Center Wine & Spirits
Cape Cod's Most Trusted Wine Merchant