A World Class Wine Under $20?!?
Priorat: A Small But Powerful Region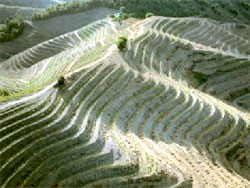 Priorat, Spain
Priorat is Spain's most inspiring red wine region, set in a very isolated zone in Cataluña. Unforgiving terrain, steep cliffs, and narrow hairpin roads provide the backdrop for one of the world's most highly acclaimed wine regions.
The Priorat is so special it qualifies as a DOCa (Denominación de Origen Calificada ) in Spain, the highest qualification for a wine region according to Spanish regulations (there are only two DOCa; the other is Rioja for you wine buffs).
What makes the Priorat so stunning?
The Priorat is home to a very unusual soil called llicorella (a mix of black slate and quartz) which is notoriously cruel. It supports only the most meager of crops. On the bright side, the small particles of mica reflect the sun's rays while retaining heat which forces the roots of the vines deeper and deeper in search of water, nutrition and minerals.
It's kind of like these vines are forced to work out at the gym every day. All this extra work produces a smaller yield (hence commanding higher prices), but a stronger and far more intense grape.
Very old vines + exceptionally low yields = strength, intensity, and power
Marc Ripoll's Black Slate Gratallops 2008
Black Slate Gratallops is quite unique in that its inspiration is the Burgundian concept of village nomenclature, yet applied to the Priorat – one region, nine historical villages, each with its distinct character but all unmistakably Priorat.

The small village of Gratallops, Priorat
The village of Gratallops (pronounced grat-ah-yops) in the heart of the Priorat is the most prominent in the region, home to wines characterized by their broad and powerful nature.
Marc Ripoll plows his ultra steep vineyards in Gratallops by hand with mules. A machine would actually tumble right off the cliffside! Makes you think twice about the price, doesn't it?
Marc Ripoll's wines sell for big bucks. However, his new project, Black Slate Gratallops, sells for a song compared to everything else coming out of this region.
This is the most reasonably priced, delicious Priorat we have ever come across.
The Priorat happens to be an area of expertise for us. In fact, we sell more Clos Erasmus (which has garnered more 99 and 100 point scores than any other wine in the Priorat) than any other retailer in Massachusetts. So, your ears should perk up when we say:
This wine over-delivers in a major way.
"More aromatic than the Porrera, with scents of redcurrant, raspberry and spicecake and a suave rose note. A spicy, penetrating midweight that offers sweet red and dark berry flavors and strong mineral spine. Fine-grained tannins add grip and shape to a long, juicy finish. I prefer this wine's extroverted, perfumed personality to that of the denser Porrera, but I bet the earlier wine will age longer, not that it matters, since this one is delicious now." (International Wine Cellar)
Stephen Tanzer's International Wine Cellar: 91 points
$22.99/bottle every day or $220.70/12 pack case ($18.39/bottle) or just $18.39/bottle in a mixed case of wine.
*** This wine has a big WOW factor for under $20 ***
P.S.
Try before you buy! Please join us this Saturday from 3-6 pm to taste this delicious wine. Kristin Butke, NorthEast Region Sales Manager for Eric Solomon's European Cellars, will be pouring Black Slate Gratallops, along with other spectacular values. A wine tasting worthy of braving the traffic!!!
P.P.S.
If you enjoy this wine and want to ramp things up a notch we have Marc Ripoll's Sans Closa Batlett Gratallops 2004 on sale now in limited quantity. With a stunning 93 points from Robert Parker's Wine Advocate, this wine is an exceptional treat. Regularly $49.99/bottle, now on sale for only $32.99/bottle (more than 33% savings!!!). We suggest decanting this wine for at least a few hours. This was our Christmas dinner wine last year if that tells you something.

* Wine & Spirit Education Trust Certified *