A Dark and Stormy Discovery of Epic Proportions
Last night we were invited to dinner at Twenty-Eight Atlantic at the Wequassett Resort with winemaker John Duval. While the lightning dramatically illuminated the stormy sky at dusk and beyond, the power briefly went out leaving only candles flickering all over the great room. As the storm swirled just outside the floor-to-ceiling windows overlooking Pleasant Bay, it turned into one of those magical evenings of intimate conversation with one of the most fascinating winemakers in the world.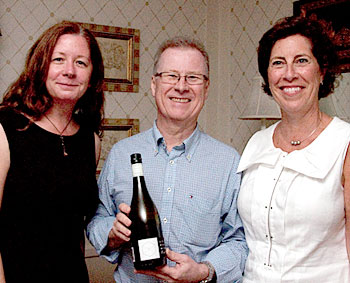 Leslie, Winemaker John Duval, and Joyce Hulme of the importer Old Bridge Cellars in the middle of a brief power outage at Wequassett Resort (hence the graininess -- it was actually dark!)
John Duval is a very soft spoken, quiet, and intelligent man. He is also legendary. He was appointed the Chief Winemaker responsible for making one of the most famous vintages of Penfolds Grange in the history of Australia. In case you are not familiar, Penfolds Grange is one of the most valuable and highly allocated wines in all of the Southern Hemisphere. When John was at the helm, Wine Spectator named Penfolds Grange the highly esteemed "Wine of the Year."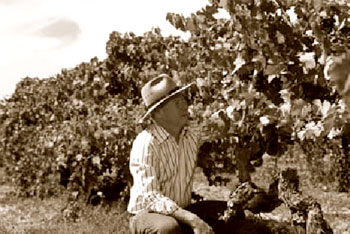 John Duval, Winemaker, in Barossa Valley
John's multi-layered wines offer more finesse than you would ever expect from modern Barossa reds. Without excesses of oak or alcohol, these intense, richly textured wines display rare clarity and precision.
Duval's old-vine wines are Barossa at the top of its game.
We tasted through John's entire portfolio last night. He only makes four wines. While they were all stunning, here is the one we have chosen for the store.
John Duval Plexus 2007 (Barossa Valley, Australia)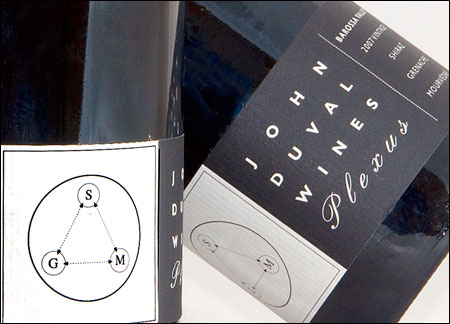 When one thinks of Australian cult wines, one image comes to mind: big, bruising, highly alcoholic, strongly oaked, teeth-staining monsters. We even went to one Australian red wine tasting where we were given a purple toothbrush to remove the purple stains from our teeth afterwards!
That is, until now. All of John Duval's wines have a commonality which is unusual in the New World.
Impeccable balance, gorgeous fruit with lilting minerality and acidity, and sheer elegance.
Plexus 2007 is a classic blend of Shiraz, Grenache, and Mourvedre (as are many Chateauneuf du Papes and Southern Rhone reds) which sees very little new oak, so the blackberry and blueberry fruits positively sing in the glass without being masked.
Many of the vines are between 60 and 100 years old which makes them older than most European vines (phylloxera never reached the Barossa Valley so the vines have not been grafted).
John Duval's Plexus has seamless balance and a long, yummy finish.
Let's check in with the press.
"The 2007 Plexus Grenache (28%)-Shiraz (51%)-Mourvedre (21%) was aged for 16 months in predominantly seasoned French oak. It is dark ruby-colored with a perfumed nose of cedar, tobacco, lavender, kirsch, and black cherry. Velvety-textured, rich, and concentrated, it is packed with flavor, is impeccably balanced, and will drink well for a decade. John Duval was the principal winemaker at Penfolds Grange from 1986 to 2002." (Wine Advocate)
Wine Advocate: 92 points
"Expressive black raspberry and cherry aromas are complicated by black and white pepper and incense. A floral note comes up air and carries onto the palate, joining sweet red and dark berry preserve flavors and undertones of anise and candied rose. A hint of candied flowers lingers on a very long, sappy finish. I'd have no problem drinking this now. For a wine from a ripe vintage this is quite elegant." (Stephen Tanzer's International Wine Cellar)
International Wine Cellar: 93 points
"Creamy in texture, this is ripe with cherry, pomegranate, ash and black pepper flavors, persisting nicely on the long, expressive finish. Shiraz, Grenache and Mourvedre." (Wine Spectator)
Wine Spectator: 91 points
"Starts off with mulberry, cola, vanilla and clove, and persists that way across the creamy-textured palate. A textbook Aussie blend, marrying immediate approachability with 5 years of ageability. Another fine effort from former Penfolds winemaker John Duval." (Wine Enthusiast)
Wine Enthusiast: 91 points
$39.99/bottle or $191.95/6 pack case ($31.99/bottle) or just $31.99/bottle in a mixed solid case of wine.
P.S.
Mention this email and you will receive 20% off a single bottle purchase of John Duval Plexus with purchase prior to Monday, June 13. That's three whole days to receive a great bargain on a truly astounding red wine. This is a very limited production wine and we don't expect to be able to carry it for very long this summer, so we recommend getting it while you can.
P.P.S.
Please join us for our summer wine tasting series. Every Friday from 4-7 and Saturday 3-6 we will be hosting a free wine tasting in the store. Bring your friends. It's a great way to develop your palate and find out which wines you really enjoy without any risk.

* Wine & Spirit Education Trust Certified *