Why Isn't This Wine Everywhere?!? A Spectacular Bargain Awaits
If you visit our house on a night when we're cooking Italian you're likely to find a bottle of Isole e Olena Chianti Classico somewhere nearby. Much as we worship this wine (and we really, really do), even we don't drink $20+ bottles every night.
Always on the quest for incredible wines at great prices, we were thrilled to find the perfect little red for those quiet nights at home when we toss a homemade pizza on the grill.
Before you meet your favorite new Italian, we have a Food Flash for you. Has anyone discovered Phoenix Produce in Orleans is selling FRESH burrata cheese made by a master cheesemonger in Vermont? This burrata will make you weak in the knees!
In fact, a glass of our Italian red today, accompanied by toasted ciabatta bread, a swipe of cut garlic, and plenty of burrata, tomatoes, basil, and olive oil on top would be seriously delicious. Absolutely. Heaven.
Melini San Lorenzo Chianti 2008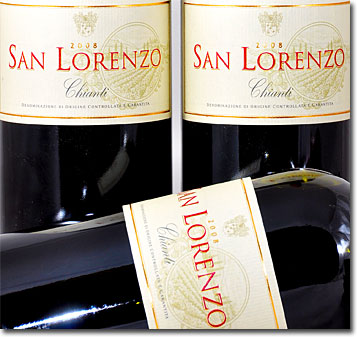 We were first introduced to this wine by a colleague of ours who is the East Coast Profile Account Manager for Frederick Wildman and Sons importers. We first met Brett when he taught our challenging class on Burgundy with the Wine & Spirits Education Trust last year in Boston. Months later we ended up tasting many, many bottles of amazing wine with him.
As circumstance would have it, we had lunch with Brett at the Wicked Oyster in May. Afterward, he pulled a bottle of San Lorenzo Chianti from his bag. It wasn't part of his presentation, but rather something he just wanted us to try because he loves the wine and drinks it at home. We wine insiders like to share our treasures with each other.
We brought the bottle home and later quaffed it with pizza fresh off the grill. After a few sips, we realized something.
This wine is an unrivaled introduction to Tuscany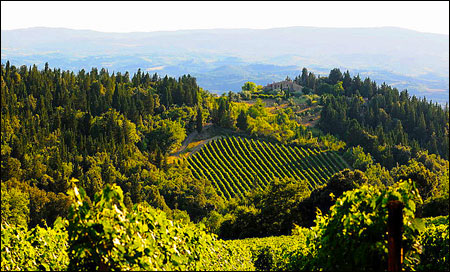 Melini Vineyards, Tuscany
With a bright ruby color, San Lorenzo Chianti has a pronounced bouquet of raspberries and blackberries, with hints of violets and irises. In the mouth, there are well defined, full, and savory flavors with a lingering, delicious taste of wild forest berries, blackberry preserve, and almonds.
Now that is evocative!
Stay with this wine for a glass (or two) and you'll see why we enjoy it so much.
The press backs us up once again.
"The 2008 Chianti San Lorenzo is a delicious wine for the money. Red cherries, flowers and berries are some of the nuances that flow from this delicious Chianti. The San Lorenzo shows more class and personality than most wines in its price range." (Wine Advocate)
Wine Advocate: 87 points
"Fresh scents of rose and strawberry fill this light, juicy Chianti. Its tannic structure is equally light, making it vinous rather than jammy. For pizza Margherita." (Wine & Spirits Magazine)
Wine & Spirits Magazine: 85 points
Wine & Spirits Magazine: Best Buy
$13.99/bottle or just $134.30/12 pack case ($11.19/bottle) or just $11.19/bottle in a mixed case of wine.
At nearly $11/bottle we can see why Brett recommended this wine so enthusiastically to us. Now you can share the love with your friends.
P.S.
We will be tasting this wine, along with others, in the store at our regular Weekend Wine Tastings this Friday from 4-7 p.m. Come and join us for a fantastic offering of wines. If you're busy then we're having another wine tasting this Saturday from 3-6 pm.


* Wine & Spirit Education Trust Certified *