Vermentino, the Great Grape of Many Names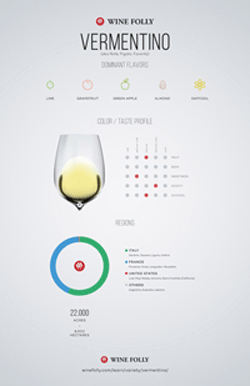 If you don't know Vermentino, you have missed out on drinking a lot of amazing wine. Fear not, for we have some we highly recommend whether you are new to the grape or enjoy it whenever possible! There is a very good reason to get excited about this wine and that's because it can be deliciously complex or smooth and easy depending on the producer. The grape shares a similar style to Sauvignon Blanc and bigger bodied Pinot Grigios, thus making it the perfect wine for the coming warmer days.

Most Vermentino comes from Italy, but it is also widely grown through Southern France and Corsica under the name "Rolle." In fact, Provence grows quite a bit of Vermentino and it is often the secret ingredient used in some of the top-rated roses. Those French can be sneaky, but they do make some great wine!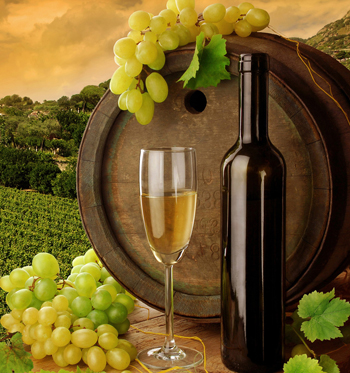 The popular theory is that Vermentino was an Ilberian grape (likely an offshoot of Malvasia) transported to Sardinia by the ruling Spaniards sometime between 1400 and 1700AD.The four that we are looking at today all come from different places throughout Italy and Corsica, showing just how far this little grape has traveled. In addition, each wine is at a different price point but can be mixed together for our special case price!
As always, please join me this Friday, between 1:00PM-4:00PM, to taste these wines for yourself! We also have some great gift ideas for Mother's Day!


Santa Maria La Palma Aragosta Vermentino 2015 DOC – Sardinia, Italy
What better place to start for our journey through Vermentino than Sardinia? This one offers easy drinking with a delicately fruity palate combined with a wonderfully refreshing acidity. It pairs best with seafood, especially shellfish (hence the name Aragosta, aka lobster).
Regular Price $13.99
Town Center Mix & Match Case Price $11.19 SAVE 20%

Aia Vecchia Vermentino 2015 IGT –
Tuscany, Italy

This is a classic coastal Italian style of Vermentino with a touch of Viognier. The medium-bodied wine is fermented in stainless steel and aged for four months in tank and two months in bottle prior to release. Another great choice for seafood, but could stand up to light chicken dishes as well.

Regular Price $12.99

Town Center Mix & Match Case Price $10.39 SAVE 20%



Giacomelli Pianacce Vermentino Colli di Luni 2015 DOC – Liguria, Italy
This delicious Vermentino offers an intense straw yellow color marked with golden reflexes. It has a very distinct nose with notes of mint and citrus. In the mid palate and finish is where the tantalizing acidulous taste, ending with a salty grain comes through. Fantastic on its own, or a great partner to traditional fish and chips.
Regular Price $18.99
Town Center Mix & Match Case Price $15.19 SAVE 20%

Domaine Maestracci E Prove Blanc 2015 – Corsica, France
In Corsica, Vermentino is the most widely planted white varietal with vineyards that benefit from high altitudes and hot climates, which produce more fuller-bodied versions of Vermentino with distinct floral aromas. This one definitely delivers in all those departments! It is crisp with a smooth texture and a good portion of citrus fruit making it excellent for summer.
Regular Price $19.99
Town Center Mix & Match Case Price $15.99 SAVE 20%


As the title says, Vermentino has many different names it is known for. To prove this, here is a short list of some of the synonyms for Vermentino courtesy of the Vitis International Variety Catalogue:
Agostenga, Agostenga blanc, Brustiano di Corsica, Carbes, Carbesso, Favorita, Favorita bianca, Formentino, Fourmentin, Garbesso, Grosse Clarette, Malvasia a Bonifacio, Malvasia Grossa, Malvasie, Malvoisie, Malvoisie è Gros Grains, Malvoisie Corse, Malvoisie de Corse, Malvoisie Précoce d'Espagne, Piccabon, Piga, Pigato, Rolle, Rossese, Sibirkovski, Uva Sapaiola, Uva Vermentino, Valentin, Varlentin, Varresana bianca, Vennentino, Verlantin, Vermentini, Vermentino bianco, Vermentino Pigato, and Vermentinu.
As Shakespeare would say "A rose by any other name would smell as sweet" and that idea holds true with Vermentino. Cheers!
Jonathan Ryder
Manager



* Wine & Spirit Education Trust Certified *
Town Center Wine & Spirits
Cape Cod's Most Trusted Wine Merchant
Location
4550 State Highway
North Eastham, MA 02651
(Next to the Royal Thai Restaurant in the Town Center Plaza)
Tel: 508 255 3660
Fax: 508 255 6736

Spring Hours

Mon-Sat: 9 a.m. to 9 p.m

Sunday: 10 to 6 p.m.

We're open year round.
Closed only on Memorial Day, Thanksgiving and Christmas.