English Sparkling Wine Invasion
When Kevin encouraged me to try a sparkling wine from England, I was hesitant to say the least. Kevin is well known for playing pranks and I learned quickly to be on guard because he does have that whole Monty Python humor to him. Don't get me wrong, I love England! Having spent a semester studying in London I learned to appreciate their theater, culture, history, and beer; but never their wine. With their notorious rainy weather and being so close to France, who could blame me?
Well, fast forward a few years and here we are with temperatures warmer globally thus making it possible for areas to start growing wine that were either unable to or could only produce select varietals. With wine, a mere degree or two change in the average temperature during a growing season can make an amazing difference.
England actually has a long history with wine. In fact, England was the first country that the wines of Portugal (including my personal favorite, Port) were exported to in the 12th century. As for the wines from England, which have been produced for centuries, the world has shown them little interest... until now.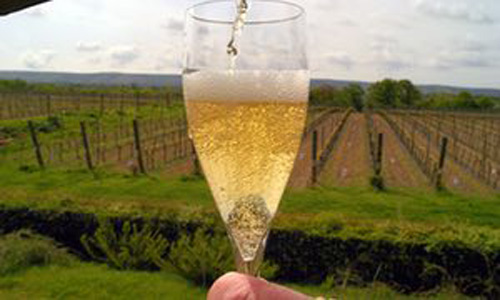 It wasn't until the late '80's and early '90's that English vineyard owners started planting the classic grapes of Champagne (Chardonnay, Pinot Noir, and Pinot Meunier). Before that, English vineyards were filled with endless acres of German grapes that rarely see the light of day in the wine world.

So, how is it even possible England can go toe-to-toe with the wine giant that is Champagne? Well, apparently they already have...
and won!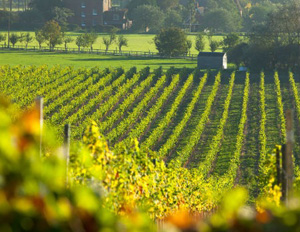 Hey, I know I'm new here, but put down the pitchforks because I have proof! In an article from the March edition of Market Watch they explored English sparkling wine. In it, they said how a year ago English sparkling wine and Champagne were put up against each other in a blind tasting where both French and English critics were in attendance. Many of the French critics conceded that they could not tell the difference between the two styles. In a stunning upset "a bottle of 2009 Nyetimber from England outscored the non-vintage Billecart-Salmon Blanc de Blanc Champagne."
That's correct, an English sparkling wine that is HALF the price of the giant that is Billecart Champagne won and it didn't even require a stone and sling.
Food and Wine magazine also sang the praises of English wine with an article entitled "Welcome to the Next Champagne." So, after all this additional research, I decided to trust Kevin. I quickly understood that Kevin's excitement about the wine was more than just pride in his English heritage.
From the first sip of the Chapel Down Brut, I saw just how correct the press and Kevin were and was reminded of the quote by Dom Perignon: "Come quickly, I am tasting the stars!"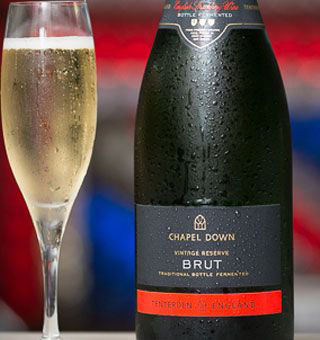 Chapel Down Reserve Brut
One of the few English sparkling wines available in Massachusetts currently! It is a four part blend of Chardonnay, Pinot Noir, Pinot Blanc and Pinot Meunier that can easily be mistaken for grower champagne quality. The grapes are hand harvested and then go through a cool fermentation followed by full malolactic fermentation and then matured in tank for six months. It is then bottled and aged on its lees for 9-24 months with the end result being thoroughly elegant and unique. Ideal as an aperitif or with the English (and Cape Cod) classic of fish and chips!
Regular Price $41.99
Town Center Case Special $33.59 SAVE 20%
***Limited Availability***
Please join me this Friday, between 1:00PM-4:00PM, to taste this impressive sparkling wine, Banshee Rosé 2016, and True Myth Cabernet Sauvignon 2014!
Wine is ever expanding and it's clear English sparkling wine is due to become one of the next big things. Before everyone jumps on this bandwagon, we want to share the insight with our wonderful customers. For half the price of Champagne you can get something absolutely outstanding and, dare I say, maybe even better! Cheers!
Jonathan Ryder,
Manager



* Wine & Spirit Education Trust Certified *
Town Center Wine & Spirits
Cape Cod's Most Trusted Wine Merchant
Location
4550 State Highway
North Eastham, MA 02651
(Next to the Royal Thai Restaurant in the Town Center Plaza)
Tel: 508 255 3660
Fax: 508 255 6736

Spring Hours

Mon-Sat: 9 a.m. to 9 p.m

Sunday: 10 to 6 p.m.

We're open year round.
Closed only on Memorial Day, Thanksgiving and Christmas.